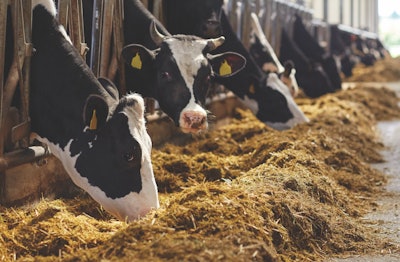 Compare costs of the ingredient needed before investing in a supplemental replacement.
Sampling, testing and analyzing hay and pasture quality could help farmers better meet the nutritional needs of cattle and save money by reducing high grain costs.
"I think the main thing is people just need to know the quality of the hay that they have. That information can be very powerful in determining an appropriate and lower cost or hopefully save some money on their winter feeding program," Dave Lalman, Oklahoma State University (OSU) Extension beef cattle nutrition specialist, said on the agricultural television show SUNUP.
Rising feed costs have challenged animal agriculture throughout 2021 and into 2022. Drought, extreme weather and supply chain interruptions have threatened global harvests and grain stocks, straining budgets.
As a result, many livestock farmers plan on making full of use of native hay and grazing range pastures.
Manage pasture resources properly
When planning to rely primarily on hay and pasture, it's important to test for quality to ensure that the supplemental requirements of the cattle are met. Many farmers turn to alfalfa as a cost-effective replacement for cattle.
"Producers need to be diligent with feeding accuracy when using alfalfa as a supplement," said Dana Zook, Oklahoma State University OSU Extension area livestock specialist.
"However, some sources of alfalfa could provide the protein needed, and potentially also provide added calcium and vitamin A that conventional cubed supplements lack."
Livestock producers also need to make sure they compare costs of the ingredient needed before investing in a supplemental replacement. As an example, consider the cost per pound of protein in winter feeding situations when cows are on dry grass.
"Again, don't skip on testing hay for protein and energy," she said. "It can help the producer be more accurate when supplementing and thereby reduce costs."
OSU offers livestock operators free access to the Cowculator, a Microsoft Excel spreadsheet that provides animal requirements and performance predictions based on years of research data. Cowculator can customize recommendations based on cow weight, body condition, stage of production and breed.