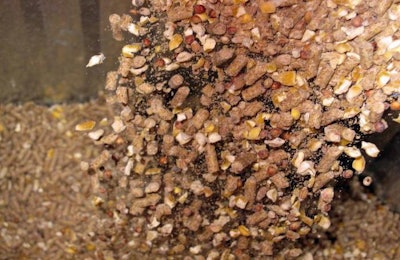 Aiming to increase its output by 30 percent, Scottish livestock feed company Norvite has invested in a new mobile milling machine from Germany.
Responding to growing demand for the service, Norvite has taken delivery of a new mobile machine that will serve its pig and poultry customers.
With funding from the Clydesdale Bank, the Aberdeenshire-based firm will be able to reduce its costs while extending its client base across Scotland, reports The Scotsman. Norvite commented that maintenance costs have been rising on its older mobile equipment.
"With our mobile milling business growing and our fleet of vehicles aging, we needed to invest to maintain service levels on our farm," said Edward Smith, Norvite's managing director.
Norvite has been offering mobile mixing services to farmers since 2003, according to the company's website. It has been working with German agricultural machinery manufacturer, Buschhoff, increasing capacity and incorporating the latest technology.
Home mixing can lead to considerable cost savings for farmers over the purchasing of compound feeds, especially those who grow their own cereal grains, according to Norvite.
Its mobile mixing service offers flexibility and precision of 1:100,000 mix dispersion level. Interchangeable screens, and facilities to add bulk, bagged and liquid ingredients allow diets to be tailored easily to meet a wide range of requirements. The mixer tank cleans automatically between batches, and the vehicle moves easily between different storage bins on the farm.
Norvite says its customers — particularly pig and poultry producers — appreciate the complete control over ingredient quality and full traceability achievable with the mobile mixer.
Founded in 1973, Norvite Animal Nutrition is based at Insch in Aberdeenshire, where there is a mineral plant. The company offers a range of premixes designed to complement home-mixed diets. At its blending plants in Oldmeldrum and Ayrshire, the firm produces organic and non-organic feeds for ruminants, poultry and game birds, pigs, horses, and small animals and pets.