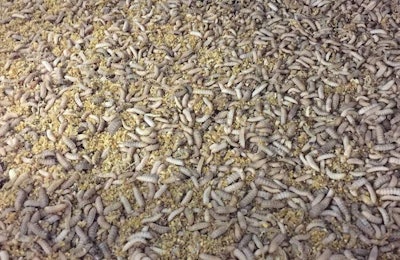 EnviroFlight, a company that produces black soldier fly (BSF) larvae, has officially opened its production facility in Maysville, Kentucky. The facility is the first of its kind in the United States.
The company, headquartered in Yellow Springs, Ohio, is a joint venture formed by Intrexon Corp. and Darling Ingredients Inc. to significantly expand production of advanced ingredients for sustainable feed and nutrition derived from BSF larvae through the largest commercial-scale BSF larvae production facility in the United States.
EnviroFlight's insect-based approach offers significant potential to convert nutrients from abundant food surpluses and renewable energy co-products into valuable proteins, oils and fertilizers. Additionally, from an ecological perspective, it also allows for decreasing dependence on non-sustainable protein sources for animal feed. Within the fish and poultry markets, BSF larvae also represent a more typical diet for these natural insectivores as compared to soy and other plant-based meals, making them an ideal candidate for nutritive feed ingredients.
"The black soldier fly are amazing little insects producing more than 1,000 times the protein per acre as compared to beef, poultry and soy," said Carrie Kuball of EnviroFlight at the facility's opening. "They do this with the same or lower volumes of feed inputs and can utilize feed stocks that others can't. It requires less water and produces less output of carbon dioxide, methane and ammonia compared to other livestock species. Quite simply, bugs can feed the world."
The new facility will allow for production of dried BSF larvae to the capacity of up to 3,200 tons per year.
Dr. Liz Koutsos, president of EnviroFlight, said in a report that the company chose Maysville for a variety of reasons.
"It was chosen for lots of different reasons: the proximity of our feed stocks, location compared to major cities and transportation routes and, just as importantly, Maysville has provided us with an amazing source of a dynamic, energetic and very educated workforce," she said.
In September, the U.S. Food and Drug Administration (FDA) recommended amendment of the Association of American Feed Control Officials (AAFCO) ingredient definition of dried BSF larvae to include feeding to poultry. The approval of BSF larvae for use in poultry feed expands the potential for this ingredient as a more sustainable source of protein and enables a nutritious, natural feed ingredient for poultry diets.