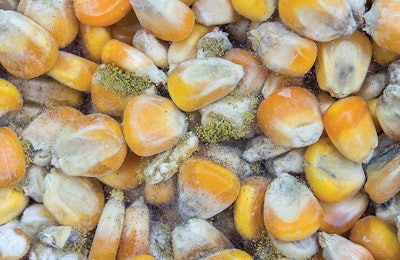 Grain quality is typically determined before cereals reach the feed mill; however, despite the fact it's likely briefly stored at the mill before it is used, there are added quality control and management steps feed mill operators take to ensure feed safety.
Critical role of grain receiving
Grain quality grading and testing is conducted before feedstuffs are delivered to the mill.
"There is not a lot that is done or really can be done [after] delivery to the feed mill to ensure grain quality," said Paul Davis, Ph.D., American Feed Industry Association's (AFIA) director of quality, animal food safety and education, noting that the grain elevator or whomever the mill is sourcing from ensures the product meets the purchase agreement specifications.
However, a well-trained receiving operator still plays a crucial role in ensuring low-quality or contaminated cereals do not enter feed production. Once the product arrives, it's the feed mill's responsibility to conduct the necessary procedures to determine if the feedstuffs met the contract specifications.
The operator is "going to check that everything meets company specs, pre-unload. If it doesn't meet those specs, you reject it," said Gary Huddleston, AFIA's director of feed manufacturing and regulatory affairs.
At this stage, receiving operators conduct moisture, nutrient and mycotoxin testing, as well as visual grain inspections.
Mycotoxin management
Mycotoxins remain a prime safety risk for feed mills.
"Risks vary widely by region of the country, types of feed grains and ingredients, weather during the growing season and storage conditions," said Bryan Sable, market development manager with Neogen. "Mycotoxin testing with rapid testing method needs to be conducted by trained staff and follow approved sampling protocol to ensure that representative samples are tested."
Mycotoxin testing procedures may vary among feed mills depending on their size and perceived mycotoxin risk at that time of year, said Sarah Weiland, nutrition technician with NutriQuest.
"Some mills may test every load individually, some may run composite tests on multiple sources, and others may do little to no toxin testing," she said. "Feed mills that do test for toxins often use on-site quick tests to allow them to make real-time decisions with the grain."
Sometimes contracts will require the seller to do testing before it arrives at the mill.
"Feed mills may periodically check loads to make sure the seller's load meets standards but, more often than not, mills are buying the grain from farmers so they will have a testing program on-site," Huddleston said.
Species-specific mills do not have different testing methods.
"Tests are the same; however, the interpretation of the results and how to mitigate the challenges are different for different animal species," said Mark Richards, president of EW Nutrition. "For example, a mycotoxin test result may require a mitigating solution for sows but not for beef cattle."
Current mycotoxin risk
The concern for greater toxin issues in 2018 stem from the growing and harvesting conditions producers have faced with this year's crop.
"Different fungi-producing toxins thrive in different environments," said Weiland. "With some areas seeing excessive rainfall close to harvest, drying corn sufficiently enough to prevent storage toxins is also a concern. Until the grain is out of the field and can be tested, it's difficult to say how big of an issue mycotoxins will be this year."
Livestock producers concerned with the risk of mycotoxins should talk to their feed mill, as self-testing isn't entirely practical.
"The only option for producers would be the quick tests, which are very economical, but also not as reliable as the more sophisticated testing procedures," said Richards. "The challenge for producers would be the small sample size which is very problematic for good, reliable results."
In the U.S., for example, producers can reference Neogen's weekly Mycotoxin and Crop Report to track the 2018 harvest's mycotoxin hot spots. Biomin also has a produces an annual global mycotoxin occurrence report that looks at prevalence of various mycotoxins in several continents.
Pest control, management
Determination of grain quality doesn't stop with mycotoxin, nutrient and moisture testing. Visual inspection, which includes insects and debris, is another important component.
The quality of grain may be interpreted differently by some people, Davis said.
"Being physically clean isn't necessarily a quality; it could be bushel weight, debris, contaminants," he said, which is the difference between technical quality versus visual or subjective quality measures.
General housekeeping practices, which align with feed safety regulations as well as the facility's hazard analysis and critical control points (HACCP) program, play an important role in maintaining the integrity of the grain.
"Once you've brought in grain that meets the specs, you wouldn't want to get it contaminated by dust or debris while it's in the mill, and you certainly wouldn't want an insect infestation," Davis said, noting such factors are controlled by management practices and a good pest control management system.
Depending on the time of year, insect infestations can pose challenges if eggs were present at grain intake and whether conditions prompt hatching, Davis said.
Huddleston noted that insects are often one of major reasons loads get rejected.
Adult insects typically do not enter feed mill grain storage; however, if an infestation occurs, feed mills will often fumigate or fog on a regular basis.
Rodents can also be an issue.
"We suggest that you hire a qualified pest control company that can come in and outline the right program for a particular facility," Huddleston said.