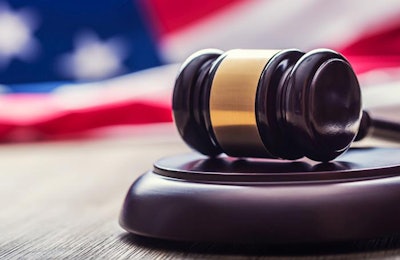 Goshen, California-based animal feed manufacturer Western Milling will pay $2.4 million to settle a lawsuit over monensin-contaminated feed that killed or severely sickened 49 horses in 2015.
Monensin is an ionophore animal drug approved for use in cattle and poultry feed to increase feed efficiency and prevent coccidial infections. Monensin is highly toxic and potentially lethal to horses, even at relatively low levels, according to the U.S. Food and Drug Administration (FDA). Western Milling produces poultry, hog and cattle feeds and pet food.
The contaminated feed killed 21 horses and sickened 28 at Black Fence Farms in Clovis, California. The settlement money will go to the lawsuit's plaintiffs, including Black Fence Farms and its owner, as well as owners of the other horses affected.
On September 25, 2015, Western Milling said it had voluntarily recalled the feed after horses that were reported to have consumed the feed died.
The lawsuit said federal regulators had found "impermissibly high" levels of monensin in the company's feed samples between December 2009 and July 2010. Western Milling was fined $726,000 by state regulators after the poisonings and the company agreed to stop manufacturing horse feed at its Goshen plant by April 15, 2017.
Monensin poisoning in horses
Horses exposed to monensin may show a range of symptoms including weakness, unsteady gait, inability to get up, diarrhea, abdominal pain, excessive urination, heart failure or death. Acute toxicity may progress rapidly enough that the horse doesn't exhibit many symptoms prior to death. Monensin toxicity is rarely treatable, and the majority of horses die or are euthanized to avoid pain and suffering. Horses that survive monensin toxicity may suffer permanent damage to the heart or muscles and are unlikely to fully recover. A horse's reaction to monensin will vary depending on the amount of exposure and the horse's individual tolerance based on the breed, diet and metabolism.
2 other feed mills warned
In October, the FDA said it had sent warning letters to two feed mills that did not adhere to Current Good Manufacturing Practice (CGMP) requirements for medicated feed mills.
Gilman Co-Op Creamery in Gilman, Minnesota and Farmers/Ranchers Cooperative Association of Ainsworth in Ainsworth, Nebraska, each mixed horse feed containing monensin.
FDA said the two feed mills did not adhere to the CGMP requirements for medicated feed mills and are also subject to FDA's Preventive Controls for Animal Food regulations. The medicated feed CGMPs require firms to conduct appropriate sequencing or adequate equipment cleanout procedures when switching from mixing a medicated animal food to a non-medicated one. These regulations are designed to prevent unsafe cross-contamination between medicated feed and non-medicated feed or other medicated feed.