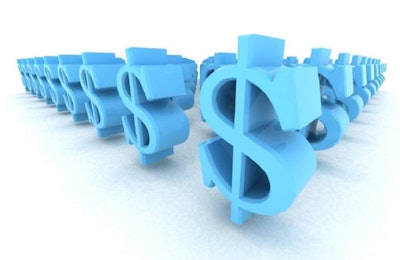 ForFarmers reported revenue was down in the third quarter of 2016 due to lower raw material prices, which are passed on to customers, and the translation of the British pound.
Overall, though, ForFarmers had a strong third quarter, with an EBITDA growth in line with the improvement as reported in the first half year 2016.
The volume of Total Feed that was sold in the third quarter decreased slightly. Gross profit showed a small increase at constant currencies, but ultimately a decrease was reported due to the currency effect. "Due to a strong focus on cost control and further implementation of the One ForFarmers program, we are on schedule with the realization of our Horizon 2020 strategy and the earlier disclosed target with respect to an average EBITDA growth of in the mid-single digits at constant currencies," said Yoram Knoop, CEO of ForFarmers.
In line with one of the pillars of the strategy, the acquisition of Vleuten-Steijn Voeders was announced in the third quarter. This acquisition was completed at the beginning of October and has led to a stronger market position in the sow and piglet sector in the southeast of the Netherlands and in Germany. The integration has started immediately.
The Netherlands
ForFarmers the Netherlands has sold more volume of Total Feed in in the third quarter than in the comparative period last year, particularly in the ruminant sector. More volume was also sold in the poultry sector: a combination of a significant volume growth for layers but less volume for broilers as the demand for welfare concepts (fewer animals in the same housing area) continues to grow. In swine, although import demand from China had a positive impact on the price for pig meat this has as yet not led to a structural improvement in this sector which still suffers from a reduction in the number of animals. Accordingly, in line with the first half year, less volume was sold to pig farmers. Reudink (organic feed) again reported strong volume growth.
Germany/Belgium
This cluster reported a growth in sold volume of Total Feed, particularly in the poultry and ruminant sector. More volume was also sold in the swine sector in Germany, mainly as a result of adding a new dealer.
United Kingdom
On a like-for-like basis, less volume Total Feed was sold. The structural reduction in the dairy herd accelerated, due to the difficult market circumstances. This resulted in a larger decrease of volume in the quarter than in the first half year. The volume sold in the swine sector also dropped due to the reduced number of animals. This reduction started at the beginning of the year as a reaction to the low meat prices. Besides the market challenges in general and the cautiousness of farmers pending the outcome of the Brexit on the agricultural sector specifically, the devaluation of the British pound has had a negative impact on the contribution of the United Kingdom to the consolidated results of ForFarmers.