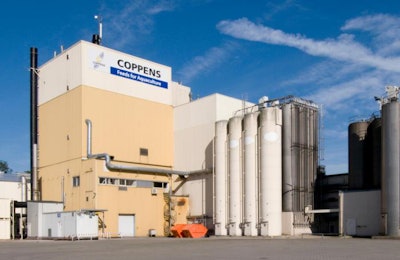 Coppens International, an international aquatic feed solutions provider, is now officially in compliance with the Aquaculture Stewardship Council (ASC) Freshwater Trout Standard for responsible aquaculture.
ASC compliance means that Coppens International can provide aquatic feed to freshwater trout operations that are seeking ASC certification.
An independent, third-party audit conducted by DNV GL Business Assurance deemed Coppens compliant with the ASC Freshwater Trout Standard.
Aquaculture Stewardship Council
In 2010 the World Wildlife Fund and IDH, a Dutch sustainable trade program, founded ASC as an independent, nonprofit organisation. The ASC certifies and labels farmed seafood that meet certain criteria for ecological and social impact.
In 2013, the ASC began the development of a standard for aquaculture feed mills. The ASC Feed Standard enables aquaculture operations to source certified feed and allows producers who can demonstrate their environmentally and socially responsible feed production methods to gain recognition for their efforts.
Achieving ASC compliance, following an independent assessment, comes shortly after the acquisition of Coppens International by Alltech, an animal health and nutrition company. Alltech has acquired 14 other companies globally since 2011.
Coppens International exports aquatic feed to more than 60 countries worldwide. The business is spread across three locations, with its headquarters in Helmond, the Netherlands, production in Nettetal, Germany, and research and development in Valkenswaard, the Netherlands.
Aquafeed market growth
Alltech analyzed the growing aquaculture feed sector and noted growing political concern for environmental sustainability.
"Aquaculture is the fastest growing segment of the feed industry," said Aidan Connolly, Alltech's chief innovation officer and vice president of corporate accounts. "According to the Food and Agriculture Organization, fish consumption now exceeds beef consumption per capita, and farmed fish now exceed wild caught. The scale of the industry is leading many policymakers to question practices and methods, particularly in regard to sustainability.