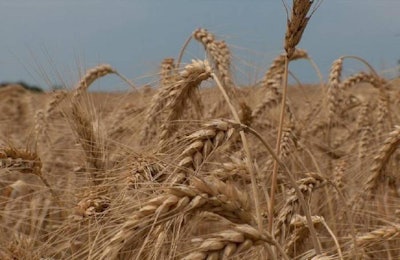 The 2015-16 Canadian Bio-Systems (CBS) Wheat Survey shows Canadian wheat is a high-quality ingredient for livestock feed.
"As expected, significant differences in composition exist based on the growing region and the wheat variety. However, on average, the findings show that wheat formulated into commercial feed rations meets, and in most cases exceeds, what has been reported for wheat in other parts of the world, including the U.S. and Europe," the report says.
Wheat samples were collected from Alberta, Saskatchewan, Manitoba and Ontario from August to October 2015. Samples were analyzed at the University of Manitoba's Department of Animal Science, producing data relevant to monogastric feeding programs, such as crude protein, starch and non-starch polysaccharides (NSP).
"The picture presented by the analysis gives us a fresh look, at an in-depth level, at the nutritional value available in the feed wheat, as well as the potential to unlock more of the feed value – for example, through the use of feed additives that help break down the hard-to-digest components," said Rob Patterson, technical director of CBS. "The new data collected from this survey will be made available to industry, to help in the formulation of precision diets, particularly for swine and poultry."
Patterson said better understanding the nutritional profile of feed ingredients will help the animal feed industry increase the value of its products.
"Feeding strategies are becoming more sophisticated and represent one of the greatest opportunities for livestock operations to improve efficiency and profitability," Patterson said. "The key to maximizing value from feed is to first understand the nutritional profile of the ingredients at the deepest level possible, then apply this knowledge to strategies designed to get the most bang per bite."
The results show some regional variation, he said. They also confirm characteristics that can be addressed through feeding strategies.
"For example, the survey results help us pin down the levels of water-soluble and water-insoluble NSP present in the wheat," Patterson said. "Water-soluble NSP are significant because they can slow feed passage. Water-insoluble NSP are significant because they are hard to digest and thereby lock away nutrients. With knowledge from the survey, we see ways to optimize the performance of the animals. We also see ways to improve the overall nutritional value obtained from the wheat, by five percent or more."
The 2015-16 data follows up on an initial survey conducted in 2014. CBS says further, expanded surveys are planned to build on the results collected.
"As we strive to get more customized and precise in feeding approaches, feed wheat is near the top of our list of priorities in Canada. For pigs and poultry, year-to-year, wheat is the most common feed ingredient in Western Canada and it is also important in Eastern Canada. Building this knowledge base is a great opportunity to help Canada reach a new, higher level of livestock production success," Patterson said.