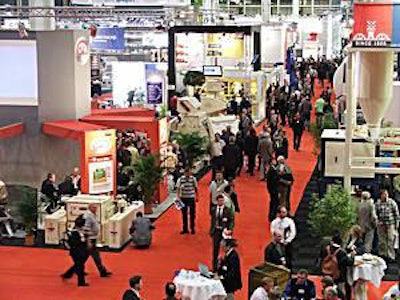 Held simultaneously for the first time, Victam International, FIAAP International and GRAPAS trade shows are opening together in Cologne, Germany, May 3-5, 2011.
Rising costs and doubts about the availability of some raw materials are causing concern among feed manufacturers, processors and producers around the world, and the market shows no signs of calming down yet.
The trio of feed-related shows is expected to be a major draw for the industry, especially for those seeking the latest ideas and new technology to help cut costs, improve formulations and develop products.
Three tradeshows in one
Victam International will feature technology and processing for animal feed, aquafeed and dry pet food; the new FIAAP International trade show will focus on ingredients, additives and formulations; and GRAPAS, another new event, will spotlight grain processing, flour milling, pasta, breakfast cereals and extruded snack production.
All three shows will feature special conferences and a range of exhibitors. Organisers already are boasting that it will "truly be the largest dedicated animal feed and grain processing event in the world." Described as "a partnership with synergy, your key to success," all three shows will be in the Koelnmesse the Cologne Exhibition Centre, and visitors will be able to attend all of them with one pass.
Together, they cover the spectrum of animal feed, aquafeed and dry pet food processing and ingredients, grain processing and flour milling and, new for Victam International this year, a comprehensive display of the latest in biomass pelleting technology.
Animal feed, grain processing
The FIAAP International show will be devoted to high-cost ingredients and additives now used in the manufacture of specialist feeds for animals, fish, shrimp and pets. It will offer a variety of different programs for the formulation of feeds, which will be of particular interest for nutritionists, feed formulators and vets from compounders, co-operatives, integrators and hatcheries.
GRAPAS will highlight equipment and additives used in flour milling, the processing, handling, storage and distribution of grain and rice and the specialist technology needed for the production of pasta and noodles.
In addition to this feed show extravaganza, there will be a series of technical conferences and workshops at the Koelnmesse. This year, events include the Petfood Forum Europe 2011, organised by WATT Publishing, publishers of Petfood Industry magazine, the IFF feed processing conference and an insight into the opportunities for biomass.
Victam International has moved from Utrecht in the Netherlands to Germany with two other major events, and is sure to provide the feed industry an invaluable resource to help meet the growing demand for lower prices, more innovative and specialist feed solutions and, hopefully, the answers so many in the industry are seeking today.