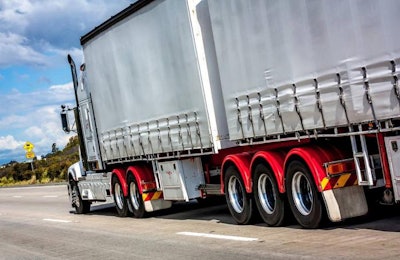 Driver shortages, fuel prices, higher wages among the factors that affect any company that uses transportation
The trucking sector faces several challenges that may affect the animal feed industry, including driver shortages, diesel prices and rising wages, according to Jason Matthews, vice president of ag services for J.B. Hunt Transport Inc.
Matthews spoke September 7 during the American Feed Industry Association's Liquid Feed Symposium in New Orleans.
According to the American Trucking Associations, the trucking industry will need to hire 1.1 million new drivers over the next decade – an average of 110,000 per year – to replace retiring drivers and keep up with growth in the economy.
In addition, FTR Transportation Intelligence forecasts loadings will also increase. Specialized loadings are forecast at a 4.3% gain, tank loadings are forecast at 4.9% growth and bulk/dump loadings are forecast to increase 3.1% – all of which are of particular interest to the liquid feed industry.
"These are more specialized, so more of the things that especially liquid feed would be, more of the things that we would see in my group on the ag side," Matthews said. "So that specialized business is expected to not only grow, but you also are going to command higher rates for a more specialized driver and more specialized services."
While fuel costs have come down slightly, they are still higher than they were at the beginning of the year, Matthews said. Diesel prices have fallen sharply since rising to a record in June: Over the past five weeks, the national average price has fallen more than 54 cents per gallon, but is still US$1.16 per gallon higher than before the surge in early March.
On top of that, truck driver wages are rising. Median annual driver wages were more than US$69,000 in 2021, an 18% increase from 2019. Median salary for a driver at a private fleet was US$85,000.
"That's really the point I want to make here. None of those things are going to go back," Matthews said. "So, you're going to see spot rates go up and down, but the major inputs for carriers and for private fleets are not going backwards."
Other factors, such as the price and availability of insurance, aging driver workforce and later age of entry into the industry, and shortages of parts and labor for maintenance and equipment are also challenges for any industry that uses trucking, he added.
"You don't have a lot of people getting into the to the diesel tech business or wanting to be a diesel tech, so there's a shortage of those folks as well," Matthews said. "And then to exacerbate that into the pandemic, all the major manufacturers, whether you're talking about trailing equipment or trucks, cut their production, obviously, they have production issues, and then huge amounts of the parts come in from overseas. And so, all the supply chain issues of trying to import anything, those have been impacted as well."
He said the supply and demand equation will remain above equilibrium, meaning high costs and the need for shippers to make strategic decisions to secure dependable capacity.