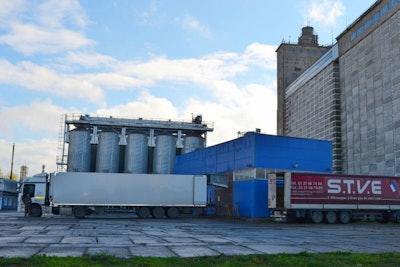 Russian feed production will decrease as a result of its invasion of Ukraine
Russian feed production had been steadily growing for more than two decades, but as the economic crisis caused by its February 24 invasion of Ukraine unfolds, the future holds more questions than answers for the country's feed businesses.
In 2021, Russia manufactured 31.9 million tons of feed, 3.6% up compared to the previous year, the Russian Feed Producers Union estimated. Over the past decade, Russian feed companies added 9 million tons in production capacity, to a large extent thanks to the 2014 food embargo and a large-scale import-replacement campaign embarked upon by the government in the poultry, pork and dairy markets.
The growth was expected to continue at an even faster pace. In 2020, the Feed Producers Union forecast that, by 2025, Russian feed production would reach 40 million tons per year.
Now, that figure seems unreachable, as the livestock industry braces for a perfect storm and a possible production decline.
Export prospects are hindered
Since 2014, new projects in the Russian livestock industry were launched, focusing primarily on meeting domestic demand, as the country was weaning off European supply. However, as the import-replacement drive was exhausted, last year Russian poultry production showed no growth in output for the first time since the early 2000s.
The picture is similar in the pig industry where, despite a slight growth in production last year, the Russian Union of Pork Producers (RUPP) warned about an acute oversupply pushing numerous farmers' profitability below the breakeven point.
To secure further production growth, meat businesses set their sights on exports, but the Russian aggression against Ukraine has put those plans into jeopardy. As explained by Yuri Kovalev, chairman of RUPP, this year Russia could see an extra 100,000 tons of pork landing on the internal market due to a slump in export. For instance, Russian pork exports amounted to 124,000 tons in 2021.
There are several factors in play. The Russian economy is hit with a full-fledged logistics crunch, as the largest sea carriers, including Maersk and MSK, pulled out of the country, leaving it with an acute shortage of container capacities and ocean transport fleet. As a result, logistics tariffs skyrocketed and, coupled with currency exchange swings and reputational issues, made Russian livestock export way less attractive on the global market.
"Our prices have become uncompetitive on the global market," Kovalev said, and this threatens to drive old pig farms with high production costs out of business.
Similar concerns are expressed by the Russian largest meat producers. On May 20, Russian agricultural holding RusAgro issued a statement saying that, due to low prices, some share of pig farmers sell pork at a loss. The Russian largest meat producer Miratorg, in turn, reported that, since the beginning of 2022, pork exports dropped by 50%, and prices on the internal market also caused concerns.
"If the current trends continue, a drop in production performance [in the Russian pig industry] seems possible," Miratorg said.
Economic crisis takes a toll
Other livestock segments find themselves in a similar situation. Russian beef production could shrink due to a lack of domestic demand, said Roman Koskyuk, general director of the National Union of Beef Producers, explaining that export opportunities remain limited while falling purchasing power pushes the Russian population to switch to cheaper protein sources.
A lack of demand is also cited as a key challenge in the poultry industry, as a growing number of Russians have been replacing chicken with extremely cheap pork on their tables.
"Our biggest concerns are associated with the falling purchasing power of the [Russian] population," said Sergey Lakhtyukhov, general director of the Russian Union of poultry producers, adding that the expensive ruble doesn't help exports, albeit Russian poultry farmers "when building export strategies, are not guided by momentary indicators."
In a wake of the European oil embargo slated to come into force in late 2022, the scale of the upcoming economic crisis is not fully clear. However, all forecasts assume that the Russian economy must brace for the worst contraction since the collapse of the Soviet Union, with a slump in investment activity and consumption.
In addition, growth in the Russian livestock and feed industry is expected to be hampered by a lack of imported genetics, vaccines and, above all, equipment. Russian businesses depend on European companies. There is no clear information to what extent supplies in every segment have been affected by the crisis, but the overall exports from the EU to Russia dropped from EUR7.65 billion (US$7.79 billion) in March 2021 to EUR3.42 billion in March 2022, Eurostat estimated.
The share of imported equipment in the Russian livestock and feed industries is believed to be close to 70% to 80%, especially at the modern farms and processing factories built during the past few years. Some facilities at a late stage of construction are on relatively safe ground, as all equipment has already been purchased and delivered to Russia, said Kovalev.
On the other hand, the implementation of new projects could be associated with big problems, as foreign suppliers are now even refraining from sending their employees to Russia for the installation of equipment purchased before the invasion of Ukraine.
More than 1,000 companies curtailed their operations in Russia, Yale School of Management reported, estimating that these companies' operations in Russia were equivalent to approximately 45% of Russia's GDP.
Feed additives import is in turmoil
The logistics chaos has also reportedly hit Russian feed additives imports, which have critical importance for all meat and dairy companies, as the country purchases 90% of feed additives abroad, primarily from the EU.
"We are witnessing a large-scale mass sabotage [of feed additives deliveries to Russia] by a number of logistics companies," Sergey Mikhnyuk, executive director of the Russian National Feed Union said, adding that some European suppliers also took an inconsistent stance on working on the Russian market. "They could change their minds for 2-3 times a week, whether to continue working with Russian customers or not."
When it comes to feed additives, Russia sits on the import needle, said Valery Afanasiev, president of the Russian union of feed manufacturers, estimating that at least some share of supplies from Europe is halted.
"Russian business doesn't want to replace import of feed additives, because such projects require payback period of 17 to 18 years and enormous investments," Afanasiev said.
Since the beginning of the COVID-19 pandemic, the Russian veterinary watchdog Rosselkhoznadzor has been tightening the screws on feed additive imports from Western countries, citing GMO fears and sanitary risks. Several Russian business groups representing feed additive and pet food suppliers have been questioning the rationale behind these restrictions but failed to urge the Russian regulator to abandon its strict policy.
There is no consensus among Russian participants on what lies ahead for the feed industry. In the background of the continuing war in Ukraine, mounting economic sanctions, and the continuing mass exodus of international companies, the prospects remain vague.