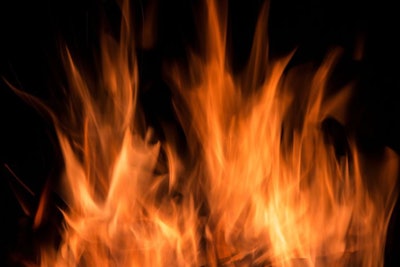 Report: 5 fire departments responded to blaze that took more than 5 hours to extinguish
A fire occurred at Perdue's feed mill in Washington, Indiana, on July 14, but there were no injuries reported and no impact to operations, the company said.
According to a report, firefighters were called to the mill at approximately 9:46 a.m. after someone noticed smoke.
"We got a call that there was heavy smoke showing at the top of one of the grain legs that runs the grain into the bin," Washington Township Volunteer Fire Department Assistant Fire Chief Tony Wichman told the Washington Times Herald. "When we arrived, we realized the smoke was coming out about 145 feet in the air. We got our tower truck out and used it to fight the fire."
Assistance was requested from multiple nearby fire departments for additional firefighters and water.
"We called the city out because we were concerned about the thing collapsing, because those grain legs support the bins. Two of those legs got hot enough to buckle a little bit," Wichman said. "We made a call for water supply because we did not know if we would have enough water to put it out."
Wichman said firefighters believe the fire began when a belt that moves grain got jammed. The motor continued to run and the belt caught on fire.
"That belt that runs inside that grain leg is a composite rubber and silicone product with steel belts. That burned through at one point. All of this stuff, the belt and the grain were burning. Of course, fire travels upward and it burned up to two-thirds to the top," Wichman said.
It took five fire departments more than five hours to extinguish the fire.
"We're grateful for the quick response of the local fire department and that there were no injuries reported. There is no impact to our operations. We are fully cooperating with any investigation undertaken by authorities," a Perdue spokesperson told Feed Strategy in an email.