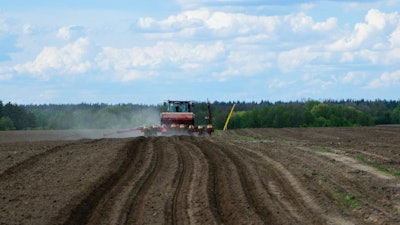 Ukrainian agricultural holding KSG Agro said it has increased its pig numbers and feed production to ensure food security
Ukraine's prime minister said the country would sow about 80% of the agricultural land that it planted last year, according to Open4Business.
Prime Minister Denys Shmygal said the reduction in sown area is the result of Russia's invasion of Ukraine and occupation of parts of the country's territory.
This season's sown area will be approximately 14.2 million hectares (35 million acres), compared with 16.9 million hectares last year, a decline of 2.7 million hectares.
In mid-March, Deputy Head of the President's Office Rostyslav Shurma said Ukraine's goal in 2022 is to harvest at least 70% of last year's volumes.
KSG Agro increases number of pigs, feed production
In a separate Open4Business report, Ukrainian agricultural holding KSG Agro said its number of pigs increased by 1% from the previous month.
"Despite the extremely difficult situation in the country as a result of martial law, characterized by a break in supply chains, we, by creating a stock of feed and updating the number of sows last year, managed to increase the number of pigs and the volume of their sale," said Sergiy Kasianov, chairman of the board at KSG Agro.
The company said it intends to gradually increase production to ensure food security for Ukraine.
In early April, KSG Agro said it had started to form a strategic three-month supply of raw materials for the production of compound feed at its feed mill "to ensure the smooth operation of the pig farm, taking into account the risk of interruptions in the supply of feed ingredients due to the temporary rupture of logistics chains in wartime."
Kasianov said Cargill, KSG Agro's premix supplier, would increase its shipment quotas. The estimated monthly supply of premixes and special compound feed for newborn piglets is 160 tons.
"KSG Agro intends to increase the stock of all types of ingredients in the near future, which allows for three months of uninterrupted production of feed," the company said on its website.
Kasianov said the feed mill is working at full capacity, with two shifts producing more than 200 tons of feed per day.
In March, John Rich is the executive chairman of MHP, the largest poultry and feed company in Ukraine, told Feed Strategy how his company continued to maintain business throughout the war with cooperation from the industry.