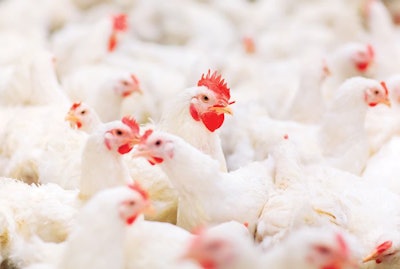 Continued COVID-19 fallout, poultry demand uncertainty and high feed costs create a challenging climate for poultry and poultry feed producers.
In 2020, the COVID-19 pandemic impacted the global economy — every country, every industry, every facet of society — and will continue shaping an era of change and uncertainty in 2021. The introduction and distribution of several vaccines offer hope that the end is near, but many obstacles will continue to prevent a return to "business as usual" well into 2022.
For the global poultry industry, the changes to how the public buys and consumes animal protein in the "next normal" will pose significant challenges through at least the first half of the new year.
COVID spurs extreme volatility
The foodservice industry was one of the hardest-hit sectors during the pandemic. Unfortunately, for poultry producers, foodservice accounts for 20 to 50% of the poultry meat market depending on the country, which made it "the protein most affected by COVID-19," explains Nan-Dirk Mulder, senior animal protein analyst, Rabobank.
In 2021, the foodservice sector will continue to experience negative market pressure, especially in the full-service restaurant category, and will not experience a full recovery this year after seeing demand decreases of more than 50% in the U.S. and EU in 2020.
"This has had a big impact on the feed-to-meat industry as channels and products need to be refocused — meaning different size birds, quality standards and feed ingredients," Mulder says, noting this trend will provide a stronger position for brands and concepts typically sold at supermarkets.
The collapse of foodservice has also resulted in ordering instability and impacted global trade, making poultry prices from exporting countries, such as the U.S., Europe, Brazil and Thailand, highly competitive, he explains.
"Global inclusion of U.S. broiler meat has weakened in 2020," says Brian Earnest, IHS Markit senior analyst – protein. "Aggregate dark meat demand has suffered because of weak domestic and export fundamentals. The economic recovery of partner countries could embolden U.S. support, but significant evidence to suggest fulfillment has not yet surfaced."
Meanwhile, the egg industry has, on average, been the least impacted animal protein due to its "relatively high share of sales for at-home consumption via retail or neighborhood markets, low price and ease of storing without refrigerator, which helped in emerging markets," Mulder says.
Beyond the struggling foodservice industry, poultry processing plants and allied industries up and down the supply chain continue to grapple with staffing and employee safety concerns.
"COVID-19 continues to create challenges for the industry by making it difficult to staff processing plants, hatcheries, barns and feed mills, and by reducing the ability to interact with others," reports Scott Tilton, food animal nutritionist and technical sales advisor, The Andersons, Inc., which he feels, for example, has also complicated the implementation of new feeding programs, i.e., antibiotic-free and all vegetable-based diets.
Poultry producers in some regions continue to deal with logistical challenges caused by reduced air travel, "making the supply of hatching eggs and day-old-chicks challenging, and have resulted in the culling of parent stock, which has made markets extremely tight with high prices," Mulder says.
Brace for high, volatile feed prices
Low grain stocks drove corn, soybean and wheat prices up by 25% in 2020, and feed grain costs will continue to rise in 2021 due to disappointing harvests in several key regions (e.g., Latin America, Ukraine), which drove the supply down and raw material prices up.
Corn and soybean meal prices are expected to increase by more than 10% in 2021.
"For several years, [the feed industry] has benefited from good weather, record harvests and grain surpluses. However, around September 2020, both China and the United States had smaller harvests, just as China needed more calories and upped its export demand," says Ed Prosser, Scoular's chief risk officer. "All of these factors triangulated around the time of North America's harvest, and we saw a contra-seasonal rally in ag prices. When China starts buying it, it makes other countries nervous. The hedge fund participation index in our corn and soybean markets went from being nonchalant and disengaged to showing record interest, which caused a $1/bushel rally in corn and a $2/bushel rally in soybeans. I've been doing this for 35 years and, you know, it's just kind of unprecedented."
In the U.S., CoBank predicts the animal protein sector will see a 12% increase in feed costs in 2021.
"We expect U.S. grain futures of $4.25/bushel of corn and $375/ton soybean meal prices as Chinese demand for feed grows as it rebuilds it hog herd," reports Will Sawyer, lead economist – animal protein, CoBank.
IHS Markit's calculated 2021 composite feed cost for integrated broiler processors is expected to be 15% above 2020 costs.
As supplies tighten, the role of procurement will be crucial.
"As you look at today's environment, if I'm trying to feed a chicken in 2021, I'm particularly interested in where my soybean meal is going come from," Prosser says. "There is a discount for a new crop soybean meal today, but I don't know that that can actually maintain itself. And all of these commodities are going to be more difficult to procure in 2021 — and certainly are going to be at higher prices than the budgets that were put in for 2020."
As poultry feed manufacturers and nutritionists try to reformulate their feed compositions to reduce costs, e.g., using more cost-effective or locally available raw materials, changes to the feed composition will also impact the use of feed additives, says Aart Mateboer, business unit director – animal nutrition, DuPont Animal Nutrition. He feels that aligning these new formulations with changing commercial demands will be a constant challenge in 2021.
"With current supply and demand projections anticipating a short crop in the Southern hemisphere, there is no let-up in sight," Tilton says. "Nutritionists and feed manufacturers will continue to have to explore new ingredient alternatives and challenge current inclusion rates to remain competitive."
Poultry producers may try to pass these higher production costs off to consumers, but they will be trying to do so in a very tough, price-driven market.
"Feed producers will be challenged to be innovative and find new solutions to optimize feed efficiency, especially as the pandemic continues to have an impact on consumers' purchasing and consumption behaviors," says François Fernandez, vice president of Wisium Premix and Services.
poultry-feed-production-2021
Disappointing harvests in key corn and soybean producing countries have limited stocks and increased grain prices, resulting in significantly high poultry feed costs in 2021. (davit85 | fotolia.com)
Impact of animal disease
African swine fever (ASF) remains a major disrupter of global meat and feed markets.
After the virus decimated Asian swine herds over the last two years, China and other East Asian countries impacted by the disease have begun to rapidly rebuild their herds. In 2020, the recovering Chinese pig herd grew by 22% and it is expected to grow by an additional 15% in 2021, Mulder reports, while ASEAN (Association of Southeast Asian Nations) countries are forecast to also increase their pork production by 8% this year.
Meanwhile, chicken production in the region has been expanding, e.g., in 2020, Chinese production increased by 12% and 5% in Vietnam.
"These massive investments are quickly shifting the industry structure from a relatively high share of backyard farms into modern farming systems, which highly impacts global feed markets as these companies will use modern feed ingredients, including soy, corn and feed additives and concentrates," Mulder says.
In addition, Asia's rapid rebound will impact global meat markets in 2021 and "may lead to lower import demand with lower prices after a very bullish year (2020) for trade into China, Vietnam and the Philippines," Mulder says, noting that major exporters (EU, the U.S., Russia and Brazil) will then look to diversify their export markets.
Meanwhile, avian influenza (AI) is threatening poultry production in the Northern Hemisphere, specifically Europe, Russia, Central Asia and Northeast Asia.
Fernandez believes these disease challenges "may generate a production decline in some regions, as well as require production shifts from one area, or one animal protein source, to another."
Rebound in 2022?
2020's historic -4.5% downturn in global economic growth will continue to taint progress in 2021 with anticipated reductions in consumer spending, a trend that will be felt by the world's poultry industry. For example, the demand for premium label and organic poultry concepts will drop as cost-conscious consumers return to standard products.
Due to the volatile market situation, Mateboer feels that the meat protein producers' ability to adapt to constantly changing customer demands will be essential to navigating the next stages of the pandemic.
Mulder agrees: "The poultry industry needs to prepare for better times in the post-COVID-19 period, which likely will be in 2022. This will mean the return of growth for poultry worldwide, but with ongoing pressure on the foodservice industry."