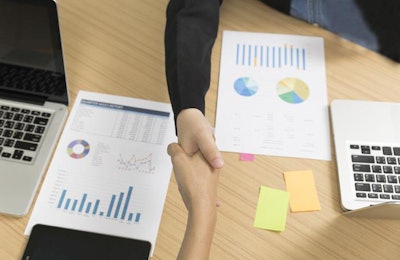 Combination creates leading position in the broiler market in the Netherlands, Belgium and Germany
ForFarmers has acquired Dutch poultry feed company De Hoop Mengvoeders, in a deal it says will allow it to focus on feed quality and advice for poultry farmers.
In 2019, De Hoop sold 322,000 metric tons of poultry feed, primarily to broiler farmers, and generated EUR110 million (US$129.6 million) in revenues. Approximately 80% of its produced volume is sold in the Netherlands, with the remaining 20% being sold from the Netherlands in Belgium and Germany. The company has 52 employees and production takes place at its modern mill in Zelhem (Gelderland, the Netherlands).
ForFarmers will buy De Hoop's shares for the compound feed business and its related transport activities, and the mill with adjacent real estate. Completion of the transaction, which is pending approval of the Dutch and German competition authorities, is expected to take place in the first quarter of 2021. Financial details about the transaction will not be disclosed at this time.
Gert-Jan Buunk will manage the new combination, which will be branded ForFarmers-De Hoop, together with Michiel Schreurs, director poultry ForFarmers Netherlands.
"We are very pleased that we are joining forces with De Hoop, where quality of feed and advice are also prime aspects of their business philosophy," said Pieter Wolleswinkel, managing director of ForFarmers Netherlands. "This combination therefore creates a strong proposition for all stakeholders and fully fits into our recently announced Build to Grow 2025 strategy."
Buunk said the two companies are aligned in their philosophy and approach.
"The decision to become part of ForFarmers is future oriented and was primarily taken with the interest of employees and customers at heart," he said. "In our longstanding history we have always wanted to attract customers by offering them the best feed and the best advice. In ForFarmers, we have found the company with a same philosophy and customer approach."
According to Feed Strategy's Top Feed Companies database, ForFarmers N.V. is among Europe's largest feed producers. The company produces and supplies regular and organic animal feed and commodities (such as arable and grassland management products) mainly in the cattle, pig and poultry sectors. A network of subsidiaries and partnerships rounds out operations that include 35 production facilities in the Netherlands, Belgium, U.K. and Germany. In addition to compound feeds, ForFarmers' feed division also includes minerals, additives, fertilizers and seeds. It produced more than 10 million metric tons of animal feed in 2019.