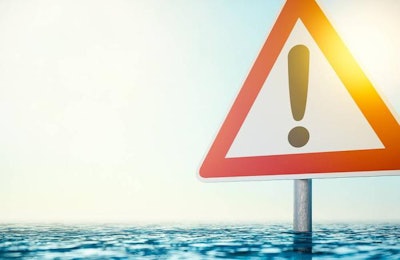 Hurricane Delta could produce a storm surge up to 11 feet in parts of Louisiana
As Hurricane Delta is forecast to strengthen and hit the Louisiana coast on Friday, the U.S. Food and Drug Administration's (FDA) Center for Veterinary Medicine (CVM) has made resources available for animal feed producers who may be harvesting, mixing, storing or distributing grains and other foods for animals amid the anticipated flooding.
"The FDA reminds harvesters that crops harvested from flooded fields are often unacceptable because of contamination," it said on its website. "Flood waters, which are different from pooled rainwater, may contain sewage, pathogenic organisms, pesticides, chemical wastes, or other toxic substances. Mold growth is another serious concern for flood-impacted crops intended for use in animal food. Some molds produce mycotoxins, which are toxic to certain animals and people."
FDA added that some crops that are deemed unsuitable for use in human food may be safely used in animal feed.
"The FDA will work with producers to consider requests to recondition an adulterated crop into animal food on a case-by-case basis," it said.
FDA added that crops exposed to flooding that are intended to be used in animal feed should, "at a minimum, be tested for mold, bacteria and heavy metal contamination. Depending on the test results, the crop may be acceptable for animal food use or it may be possible to salvage the crop by reconditioning it."
Also included on the FDA's website is a question-and-answer document concerning crops intended for animal feed that have been harvested from flooded fields.
Hurricane Delta is expected to make landfall in the afternoon of October 9 as a major hurricane, with sustained winds up to 115 mph and a storm surge of 7 to 11 feet in areas from Pecan Island to Port Fourchon, Louisiana, according to the National Hurricane Center.
Many areas that were previously affected by Hurricanes Sally and Laura this year are expected to also be affected by Delta.