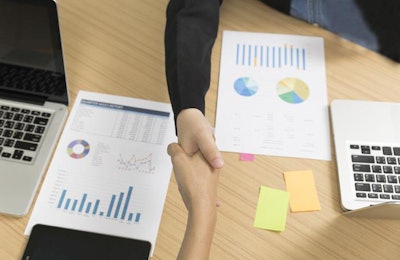 Operations, employees will be merged into Danish Agro
Danish Agro will acquire Jutland, Denmark-based agribusiness company Himmerlands Grovvarer, Danish Agro said in a press release. The agreement is contingent upon the approval of the Danish competition authorities.
Upon finalization of the agreement, Himmerlands Grovvarer owners Søren Have, Knud Ring and Torben Frederiksen will retire. Until then, they will continue working at Himmerlands Grovvarer. Himmerlands Grovvarer employees will join Danish Agro.
Himmerlands Grovvarer has 50 employees across five departments in Aars, Skals, Rostrup, Skalmstrup and Aarhus, Denmark, and it has an annual revenue of DKK700 million (US$1.1 billion), according to its website. It produces feed for cattle, pigs, horses and hobby animals, along with other products.
"Himmerlands Grovvarer is a strong company with highly competent employees," said Danish Agro CEO Henning Haahr. "We share their culture and values and the company's employees will be a strong addition to the Danish Agro family. In the same way, Himmerlands Grovvarer's department network will supplement Danish Agro's department network really well. We are glad that Himmerlands Grovvarer wants to be sold to Danish Agro, and we will do our part to ensure that the company's values are preserved."
Himmerlands Grovvarer CEO Torben Frederiksen agrees, adding the timing of the deal was right for the company.
"Himmerlands Grovvarer is a healthy business with a strong customer base, and we are proud of the results that we have created together with the farmers in Jutland," he said. "When we were contacted by Danish Agro, we felt that now was the right time to consider the future of Himmerlands Grovvarer. It has been important for us to ensure that the qualities our company stands for would still be offered to our customers moving forward. Therefore, we have decided that Himmerlands Grovvarer will now become part of the Danish Agro group. We share the same values, and Himmerlands Grovvarer will now, as part of the Danish Agro group, be able to provide even better offers to the farmers of Himmerland."
According to Feed Strategy's Top Feed Companies database, Danish Agro operates feed mills in Denmark and across Scandinavia and the Baltic Sea region. The firm is also engaged in animal feed internationally through DLA group, in which it is invested with Vestjyllands Andel. Danish Agro Group is owned by some 10,000 Danish farmers and operates 100 subsidiaries in 16 countries. From its roots as a local cooperative in 1901, Danish Agro has grown to become an international player in the arenas of feedstuff mixes, ingredients and vitamin mixes, as well as fertilizer, crop protection and trading, seeds and energy. Danish Agro also runs an extensive chain of hobby and leisure retail outlets. In 2019, it manufactured 2.8 million metric tons of feed at its 18 feed mills.