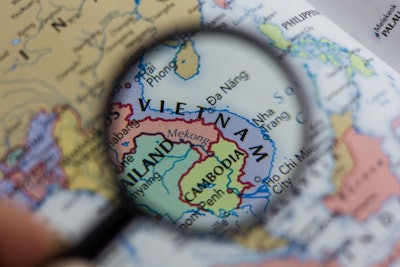 Representatives in Ho Chi Minh City will focus on aquaculture and pet food
The American Feed Industry Association (AFIA) says it is implementing market access and development programs for the U.S. animal feed industry in Vietnam.
"Our work in Vietnam focuses on improving the competitiveness of U.S. animal food products by educating and demonstrating the variety, efficacy, quality, viability, safety and sustainability of U.S. feed products," AFIA Senior Director of International Policy and Trade Gina Tumbarello wrote in a recent blog post.
AFIA said its efforts will focus on updating technology, improving regulatory compliance and upgrading input and management quality, leading to increased use of feed additives and expanded market share of U.S. feed products, with a primary focus on the aquaculture and pet food industries.
"By providing training in the use of best technologies, the Vietnamese can appropriately adjust their feed rations, reduce costs and increase feed conversion ratios," Tumbarello wrote. "Benefits include enhancing feed production and on-farm animal agriculture production technology, input use and waste management and farm management practices."
AFIA's representation is based in Ho Chi Minh City. Thanh Nguyen is the AFIA's country representative in Vietnam and the founder and co-owner of ECREATI, a research and marketing agency. Alex Nguyen is the AFIA's market consultant for feed in Vietnam and also the co-owner of ECREATI.
AFIA said its funding is supported by the U.S. Department of Agriculture's Foreign Agricultural Service's Market Access Program, which helps U.S. agricultural trade associations, cooperatives, state regional trade groups and small businesses share the costs of overseas marketing and promotional activities that help build commercial export markets for U.S. agricultural products and commodities.
US pork industry also focuses on Vietnam
The National Pork Producers Council (NPPC) also recently said it is looking to expand U.S. market access in Vietnam by eliminating trade barriers. PPC President Jen Sorenson said in a statement in early May that U.S. hog farmers are "hamstrung by unjustified tariff and non-tariff barriers, allowing global competitors to take advantage of the supply shortfall."
Among the non-tariff barriers the U.S. faces in Vietnam is a ban on white offal, which includes products such as intestines, spleen and tongue that are not readily consumed in the U.S. but are popular in Vietnam, according to NPPC's assistant vice president of international affairs, Maria Zieba.
A bipartisan group of more than 70 members of Congress sent a letter to U.S. Trade Representative (USTR) Katherine Tai in an effort to expand Vietnam's market access to U.S. pork.