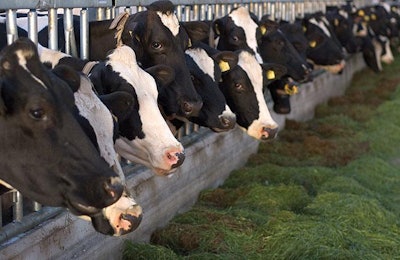 Seaweed product shown to reduce methane produced by cattle by 80%
Australia's national science agency has formed a company to bring to market a methane-reducing animal feed additive for cattle.
FutureFeed Pty. Ltd. will commercialize a feed additive made from the seaweed Asparagopsis. According to the Commonwealth Scientific and Industrial Research Organization (CSIRO), research trials in Australia and the U.S. have shown the FutureFeed additive reduces methane emissions from cattle by more than 80%.
"This is a game-changer – not only for livestock production, but also for our environment – with the potential to create an entirely new industry, while supporting jobs in the Australian agriculture sector," said Karen Andrews, Australia's Minister for Industry, Science and Technology, in a press release. "This is an example of what can be achieved when industry and researchers work together to solve real-world problems. It also highlights the ongoing jobs and economic opportunities that can come from ensuring our world-leading research is commercialized."
The CSIRO said approximately 12% of feed is lost as methane emissions and, with feed being the largest production expense, focus is on maximizing feed efficiency. Research shows the supplement reduces methane emissions and supports the animals' productivity.
"If farmers could supplement their feed with seaweed, this might just help with two of the biggest challenges of our time: fighting climate change and growing more food with fewer resources," the CSIRO said.
CSIRO scientists estimate that if the feed additive were to be adopted by 10% of the world's beef feedlots and dairy industries, it could reduce greenhouse gas emissions from those industries by approximately 120 megatonnes per year, equivalent to taking around 50 million cars off the road for a year.
According to its website, "the FutureFeed company will develop a full value chain for the livestock feed supplement, from seaweed cultivation and production to processing and feed manufacture in order to supply beef and dairy industries globally."
The product is expected to be available to Australia's beef and dairy markets by the middle of 2021, with international markets to follow. The company said it will explore market options for greenhouse gas abatement payments for livestock producers that use the product.