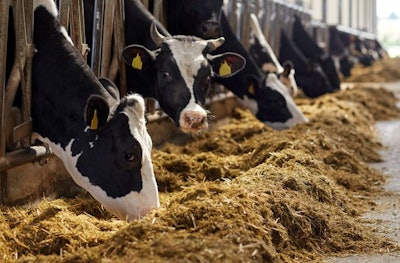 Mootral feed supplement reduces methane emissions in cattle by up to 38%
Swiss agritech company Mootral has developed a new Verified Carbon Standard (VCS) methodology that uses natural animal feed supplements to reduce methane emissions.
According to the company's website, Mootral is a natural feed supplement that significantly reduces methane emissions from the enteric fermentation of ruminants and is the result of more than 10 years of research and development. It is based on a proprietary combination of active compounds from garlic and flavonoids derived from citrus. The company said research has shown that the supplement reduces methane emissions by up to 38%.
The VCS program, run by Washington-based nonprofit Verra, is the world's most widely used greenhouse gas (GHG) reduction program, according to its website.
"Once projects have been certified against the VCS Program's rigorous set of rules and requirements, project developers can be issued tradable GHG credits that we call Verified Carbon Units (VCUs)," Verra said on its website. "Those VCUs can then be sold on the open market and retired by individuals and companies as a means to offset their own emissions. Over time, this flexibility channels financing to clean, innovative businesses and technologies."
Because Mootral has been approved for the program, farmers who use the feed supplement can qualify to sell GHG, or carbon, credits in the carbon offset market.
carbon credit: a tradable credit granted to a country, company, etc., for reducing emissions of carbon dioxide or other greenhouse gases by one metric ton below a specified quota
Danish scientists at the University of Copenhagen who conducted in vitro trials found a strong impact of Mootral on rumen fermentation, which may ultimately affect climate change.
"A 58% methane reduction was achieved when we added Mootral to a typical (Danish) dairy ration of maize silage and soybean cake in our in vitro test," the scientists said. "The in vitro test showed clearly that Mootral increased early fermentation and did not affect feed degradability whilst reducing methane."
Mootral founder Thomas Hafner told Bloomberg that its product has been trialed in cattle in the U.K. but that the company wants to expand its use to other ruminants, and geographically to North America, Europe and Asia.
"This carbon methodology is the first of its kind in the world," Hafner told Bloomberg. "We are starting with the dairy industry, because the performance benefits are easier for us to prove at this moment. We have long-term studies in the beef industry going."