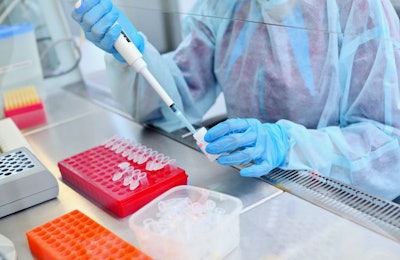 Single-cell protein created by speeding up gas fermentation process
Chinese researchers say they have discovered a way to convert carbon monoxide into protein for animal feed, according to reports.
The Feed Research Institute of the Chinese Academy of Agricultural Sciences (CAAS) says it has worked with Beijing Shoulang Biological Technology to create a single-cell protein by speeding up a gas fermentation process. The protein, Clostridium autoethanogenum, has been approved by China's Ministry of Agriculture for use in animal feed.
"After six years of research, the company has increased the yield rate of biosynthesis protein from carbon monoxide gas to a maximum of 85% and succeeded in industrial application," said Chao Wei, vice president of Shougang Lanza Tech.
The research used industrial exhaust gas containing carbon monoxide, carbon dioxide and ammonia water as the main raw materials to produce the protein.
The development could help ease China's dependence on imported sources of protein for feed, such as soybeans.
Xue Min, a CAAS researcher, said in a report that the production of 10 million tons of the new protein is equivalent to 28 million tons of imported soybeans and can reduce the emission of 250 million tons of carbon dioxide.
According to the Global Times, "The natural synthesis of protein involves complex genetic expression, biochemical synthesis and other factors, while the conversion efficiency of material and energy is relatively low and the final accumulated protein content is also not high."
Further research is needed to reach mass production, reports said.
Several companies worldwide have been working to develop single-cell proteins. In April, leaders from six top single-cell manufacturers outlined their plans for the future before an audience of more than 20,000 listeners. During a webinar, The Scoular Co., NovoNutrients, Unibio and Calysta all described plans for product launches or new commercial-scale production, with most planning to cater to aquaculture.