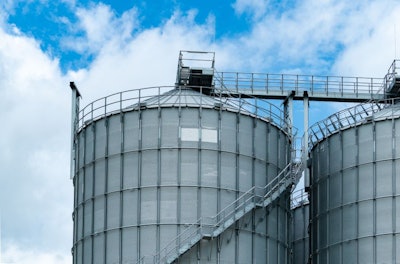 Fire caused by fermentation inside the silo
A fire at the Kordin Grain Terminal in Malta on January 4 destroyed 1,000 tons of alfalfa animal feed and was contained to one grain silo. No injuries were reported.
The fire was caused by natural fermentation inside the silo which caused temperatures to rise inside the silo, officials said. Several agencies responded to the fire, which took 24 hours to extinguish.
The grain terminal has been storing large amounts of grain of one of its clients for a longer period as a result of the war in Ukraine. This long storage period increases the risk of fermentation, and temperatures are monitored by surveillance systems.
"In the previous days, company personnel noticed that the temperature in one particular spot was increasing drastically, and a decision was taken to remove the product and take it to a Wasteserv site," said Kordin Grain Terminal CEO Alex Agius, adding the grain will be recycled.
Agius said 300 tons of alfalfa feed in a separate silo were saved.
"We have peace of mind that Malta has enough provisions of grain until the arrival of another consignment. We are ensuring that there is no shortage and supplies will continue as before," he said.
A government subsidy on grains will ensure stable prices for customers.
The Kordin Grain Terminal in the Mediterranean Sea handles and stores free-flowing grains and offers discharging, storage and loading services, according to its website.