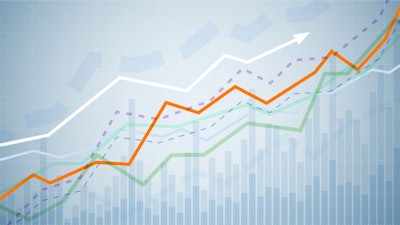 Corn and soybean prices could fall in 2023, economists say, but rising costs and interest rates will limit their descent.
The new year may bring some relief with respect to corn and soybean prices, but with rising costs and interest rates pressuring U.S. farmers, that relief may be relatively limited.
The U.S. Department of Agriculture (USDA) cut projected on-farm prices for corn by 10 cents per bushel in light of reduced trading activity the agency indicated was a result of relatively high prices within the U.S. Soybean prices remain unchanged despite what the USDA characterized as "historically low export sales through November," according to the agency's monthly World Agriculture Supply and Demand Estimates.
But whether this cooling trend will persist is anyone's guess, Purdue University associate professor of agricultural economics Nathan Thompson said during a December 19 webinar. Prices seem likely to cool, Thompson and his colleagues agreed, but volatility remains the name of the game. December 2023 futures were selling for US$5.95 per bushel as of Monday morning, but Thompson estimated there's a one-in-four chance that prices could exceed US$6.75 per bushel next year. On the other end, he said there's a 25% chance they fall below US$5.
Next year's soybean prices do not seem quite as volatile, with Thompson estimating there's a one-in-three chance of prices falling below US$12.75, or rising above US$14.75.
Any number of factors could cause prices to swing in either direction, said James Mintert, director of the Center for Commercial Agriculture at Purdue University. One could be a sudden increase in exports, which so far seems unlikely, he said. Weather, particularly in South America, will remain a major factor this year due to tight supplies of corn and soybeans globally. And then there's the war in Ukraine, which remains a major wild card, Mintert said.
Meanwhile, rising costs and interest rates could complicate matters for farmers, Mintert said. The U.S. Federal Reserve Board is expected to raise its own interest rates to 5.1% in 2023, which Mintert said could correlate to interest rates as high as 9-10% on the ground for farmers. And farm input costs are expected to rise another 10% in 2023, after a 37% increase in 2021, according to Michael Langemeier, associate director of the Center for Commercial Agriculture. This rate of increase far outstrips the rate of inflation and could bring the average break-even point for farmers growing corn to US$5.60 per bushel, he said.
"It just amazes me every time I look at that figure, that breakevens are even that high," Langemeier said.
Mintert urged farmers to maintain their cash reserves in case market conditions next year force farmers to sell their crops at a loss.