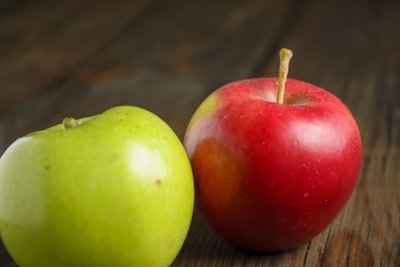 Injecting apple juice into eggs might give poultry a head start on developing a healthy gut.
Call it pre-school for poultry: injecting apple juice into eggs produced healthier chicks after the eggs hatched, according to a new study from Cornell University.
Chicks that received a single apple juice injection had more beneficial bacteria in their intestines and showed signs of improved iron and amino acid absorption after they hatched, according to the study. Although more research is needed to verify the findings, the results suggest apples and apple byproducts contain bioactive compounds that promote healthy gut development, according to Elad Tako, an associate professor in Cornell's College of Agriculture and Life Sciences and one of the authors of the study.
In the study, led by Cornell doctoral student Cydney Jackson, researchers injected the eggs with a solution containing water and 6% of either apple juice, apple pomace, or apple pulp. Each of the solutions had different, but positive, effects on the health of the chicks, but the research team was particularly interested in the results from the apple pomace, a byproduct of apple processing for which Cornell University hopes to find additional uses.
The team had hoped apple pomace might show promise as a potential feed ingredient, Tako said. The decision to inject the apple solutions directly into the amniotic fluid surrounding unhatched chicks was largely a question of experimental design. Testing the apple pomace within a complete diet would have introduced questions about how the pomace interacts with other feed ingredients and conditions. Injecting the apple solutions directly into the amniotic fluid allowed the research team to test the apples in isolation to determine whether beneficial bioactive compounds might be present, Tako said.
Tako said the study should be considered a preliminary step; long-term feeding trials are still needed to verify their results.
While the injections were intended to facilitate the study's research questions, there is precedent to suggest the technique could be used in industrial settings, Tako said. Some vaccines are administered via injection into the developing embryo; in theory, nutritional components for the chick to "eat" could be administered in a similar fashion.
"If we can come up with a cocktail that can be included in this injection, that would be optimal," Tako said. Though for now, he said, the university remains focused on looking for ways to upcycle byproducts from processing apples and other fruits grown in upstate New York, including grapes.
"This is just the first step. … What we are trying to demonstrate here is the potential upcycling of the waste product in something that … humans consume," Tako said. "It's not only about poultry feed, which is important, but about introducing a dietary ingredient that has a high profile of bioactives that eventually get to our grocery stores."