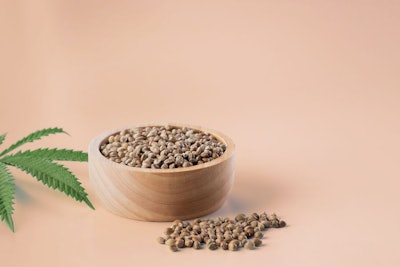 In a letter to the FDA commissioner, National Industrial Hemp Council of America cites safety of hemp seed for animals
The National Industrial Hemp Council of America (NIHC) has sent a letter to the U.S. Food and Drug Administration (FDA) urging the approval of hemp seed as an animal feed ingredient.
The letter, addressed to FDA Commissioner Robert Califf and signed by NIHC President and CEO Patrick Atagi, says that numerous clinical trials across various animal species have found that cannabinoids do not transfer into animals fed hemp seed meal, and points out that hemp seed has been generally recognized as safe (GRAS) for human consumption since 2018.
"We understand and are sympathetic to the concerns about cannabinoids entering the nation's food supply," the letter said. "However, we believe it's important to clarify that we're advocating for feeding hemp seed to animals that can contain cannabinoids. The distinction should be made clear to policymakers: hemp seeds are biologically incapable of producing cannabinoids."
Atagi said the NIHC believes FDA's "concerns over cannabinoids that are only quantifiable in parts per billion or even parts per trillion in animal residues are not a safety issue but rather, unnecessary scrutiny."
The letter also points out that the U.S. Drug Enforcement Agency (DEA) has concluded that hemp seeds are not considered a controlled substance, "a clear signal to not just farmers and consumers but also the FDA that hemp seed is a safe food ingredient for livestock production."
NIHC said that approval of hemp seed as an animal feed ingredient can lower feed input costs, and hemp seed can serve as an alternative to other grains, such as wheat and corn, that are in short supply globally due to the war in Ukraine and weather events, among other things.
"Hemp is an environmentally responsible and domestically grown alternative. Considering the higher costs associated with the worldwide grain shortage, a sustainable American hemp crop is a nutritious source of animal feed, and it can lower the cost of farming feed inputs. This would be good news for farmers and consumers who now struggle with the higher costs of milk, meat, and eggs," the letter said.