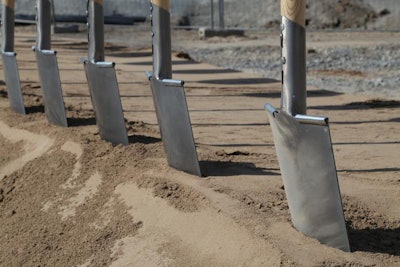 $70 million expansion will create up to 100 new jobs
Neogen Corp. held a ceremonial groundbreaking this week on a US$70 million expansion of its food safety facility in Lansing, Michigan.
Lansing's city council this week approved a resolution to finalize the company's US$5 million brownfield redevelopment plan, which will reimburse Neogen for public infrastructure investments, according to a report.
The expansion is centered around the construction of a three-story dedicated manufacturing building located on East Shiawassee Street, adjacent to other Neogen facilities. The 175,000 square-foot space represents the company's investment in new manufacturing equipment and laboratory equipment for the test and release of products.
The expansion will create between 60 and 100 new jobs, raising Neogen's Lansing footprint from 650 employees to a maximum of 750. These highly skilled positions, which will be hired throughout the project, will range from automation technicians and operators to process engineers, chemists, quality engineers and quality technicians, as well as managers and supervisors, the company said in a press release.
"Neogen's US$70 million investment in Lansing will further Michigan's leadership in the life sciences and agribusiness sectors," Michigan Gov. Gretchen Whitmer said. "This new manufacturing facility will expand Neogen's footprint in Lansing and create up to 100 new good-paying jobs for Michiganders."
The newly created jobs are expected to pay between US$13 and US$25 per hour.
"This expansion, along with the merging of 3M's food safety business with our existing operations, will lead Neogen into a new era of growth," said Neogen President and CEO John Adent.
In December 2021, Neogen announced it would combine with 3M's food safety business in a tax-free US$5.3 billion deal. According to that announcement, existing 3M shareholders will own 50.1% of the combined company. This month, Neogen received US$350 million in a senior notes offering as financial backing related to the proposed merger, which remains on track to close in the third quarter of 2022.
In a separate press release, Former Louisiana Attorney General Charles C. Foti, Jr. and the law firm of Kahn Swick & Foti LLC said this week they are investigating the proposed merger to determine whether the merger and the process that led to it are adequate, or whether the merger undervalues the company.
The expansion project in Lansing is slated to begin in September 2022, with completion expected in December 2023, and validation and other progress taking place through 2024.
The project will be made possible through close collaboration with the City of Lansing, Lansing Economic Development Corporation (LEDC), Lansing Economic Area Partnership (LEAP), the Michigan Economic Development Corporation (MEDC), and the Michigan Strategic Fund (MSF), as the company has applied for incentives needed to create these jobs and complete the project.