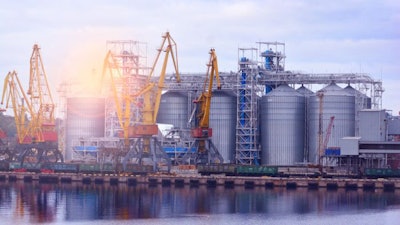 Russia uses Ukraine's grain as leverage, creating uncertainty for global food security, inflation
As Russian top government politicians openly call to weaponize its grain exports and Ukraine's grain is being held hostage in the ongoing conflict, the world's grain market has yet to see its worst times.
The Russian invasion of Ukraine has caused a shock on the global market, as both countries are the largest exporters. In 2021, Russia and Ukraine supplied 75% of sunflower oil, 29% of barley, 28% of wheat and 15% of corn to the world market. Nearly 50 countries depend on Russia and Ukraine for at least 30% of their wheat needs, of which 26 countries depend on more than 50%, FAO estimated.
While Ukraine has no physical ability to export grain due to the Black Sea port blockade, Russia keeps relying on the food protectionism policy, urging its neighbors to follow the lead.
During an intergovernmental meeting on May 20, the Russian delegation called all countries of the Eurasia Economic Union to impose quotas on wheat export. The rationale behind this step is not fully clear. In the previous years, the Russian government introduced caps on grain export in order to protect the domestic market, but given that this year's grain harvest is projected to surpass the 130 million tons mark, there is no obvious reason to restrict foreign trade.
Russia introduced 15 million tons quotas on grain export from February 15 to June 30. From June 2, the Russian government has also put in place a floating duty on wheat, barley and corn.
As the Ukraine crisis unravels, Russian politicians have been repeatedly turning to grain as leverage it could use to make Western countries pay for sanctions.
On April 1, the former Russian president and senior security official Dmitry Medvedev threatened to restrict grain exports only to friendly countries of Russia, suggesting that the country should use grain exports "as a silent weapon."
These threats have not materialized yet.
Grain in exchange for lifting sanctions
As Western sanctions keep mounting up, the Russian government officials' rhetoric changed. Russian President Vladimir Putin said, as quoted on the Kremlin's website in late May, that he's willing to facilitate grain and fertilizer exports — but only if sanctions on his country are lifted.
Calls to lift sanctions so that Russia could "help sort out global crisis" are also voiced by Russian business groups. In 2022-23, Western sanctions could prevent 10 million tons of Russian grain from landing at the markets of countries in need, estimated Eduard Zernin, chairman of the Russian Union of Grain Exporters.
"Against the backdrop of loud statements about the approaching global food crisis, our partners of yesterday are competing in a race to erect barriers on the way of Russian grain to countries in need," Zernin said, explaining these impediments involve blocking bank accounts and payments, freezing of credit lines, and a ban on foreign ships to enter Russian ports.
"In the language of newfangled cancellation culture, Russian grain seems to have been decided to just be canceled, regardless of the consequences," Zernin said.
The Russian Union of grain exporters estimated that as of late May, only 70% of export quotas for grain imposed in February were shipped, which was a rather low level. Zernin blamed hidden sanctions against Russian grain for this shortfall, explaining that while large grain exporters have no problems continuing exporting, small and medium market players encounter problems on the global market.
To solve the existing problems, Zernin said, Russia could create a separate grain market exclusively with some countries he described as being "in need."
"We will find a suitable solution for organizing deliveries to countries in need, up to the organization of a separate regional market, with its own clearing currencies, trade finance instruments, trade and dispute resolution rules," Zernin said, not providing any additional details.
Trapped Ukrainian grain
Ukraine is the breadbasket of the world. In a normal year, it grows enough food — mostly wheat, corn and cooking oil — to feed 400 million people. Nine-tenths of that is shipped through the Black Sea. This year, nothing is moving by sea, and not much by land, said Edward Lucas, nonresident senior fellow at the Center for European Policy Analysis, who is confident that the restrictions on grain exports were a part of Moscow's game plan since the beginning of its invasion.
"Rocketing prices, shortages and hunger in the coming months will make desperate people riot against their rulers and flee. The upheavals will be mighty, the suffering immense. So too will be the political consequences in the West. Spooked by the specter of another migration wave, European leaders may urge Ukraine to sign a ceasefire — any ceasefire — so that food moves and people do not," Lucas said.
The lack of Ukraine grain directly affects 1.7 billion people in more than 100 countries, according to the United Nations. Of these, 43 million are on the brink of famine, and 570,000 are facing starvation.
The biggest question is now associated with the Ukrainian sea blockade by the Russian navy. On May 30, President Volodymyr Zelenskyy said that due to Russia's blockade of Ukrainian ports in the Black Sea and the seizure of the Ukrainian part of the Sea of ​​Azov, Ukraine has been unable to export 22 million tons of grain in storage.
Speaking with Russian state press in early June, Putin offered Ukrainians to demine its Black Sea port, promising a safe passage of ships with grain to international waters and that Russians "will not make use of the demining situation to carry out any attacks from the sea."
Among alternative solutions, Putin offered to use seaports of Mariupol and Berdyansk controlled by Russian forces or export grain through Belarus, though this would require lifting sanctions imposed on this country for aiding the Russian invasion.
Jeopardized harvest
On the other hand, there are looming fears that more than just one year of grain season could be affected by the Russia-Ukraine war. Ukraine finishes the sowing campaign at a territory comprising 75% of the 2021 sown area, the Ukraine Agribusiness Club (UCAB) estimated. Nearly 20% of Ukrainian land, compared with 7% before February 24, is occupied by Russian troops.
In addition, in a part of the territory of Kyiv, Chernihiv and Sumy where heavy fights took place in March-April, some fields were not properly prepared for the spring sowing campaign due to their contamination with mines, as well as significant destruction of the material and technical base.
"It is too early to talk about the expected yield, but farmers are making all effort to carry out all the necessary technological processes," said Svitlana Lytvyn, an analyst of UCAB, adding that the farmers also face a lack of seeds, fuel, fertilizers and equipment.
However, the new harvest could not save the day unless the logistics issues are solved by autumn. Before the Black Sea port blockade, Ukraine had the capacity to export 5 million to 5.5 million tons of grain monthly. Now, this figure dropped to 1 million to 1.5 million tons. Given the large leftovers, Ukraine would not be able to export the grain it has in stock before the new harvest arrives. This, in turn, raises the problem of the lack of grain storage capacities in Ukraine. Basically, Ukrainian farmers never planned to store so much grain, and some grain storages were destroyed or damaged during the past few months.