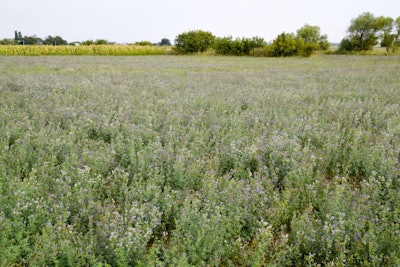 Agriculture groups had requested the move due to the global food supply disruptions caused by Russia's invasion of Ukraine.
The U.S. Department of Agriculture (USDA) said it will allow certain Conservation Reserve Program (CRP) participants to terminate their contracts, in order to help mitigate the global food supply challenges caused by the Russian invasion of Ukraine and other factors.
CRP participants who are in the final year of their CRP contract can request voluntary termination of their CRP contract after the end of the primary nesting season for fiscal year 2022. Participants approved for this one-time, voluntary termination will not have to repay rental payments, USDA said.
USDA also announced additional flexibilities for the Environmental Quality Incentives Program (EQIP) and Conservation Stewardship Program (CSP).
"Putin's unjustified invasion of Ukraine has cut off a critical source of wheat, corn, barley, oilseeds and cooking oil, and we've heard from many producers who want to better understand their options to help respond to global food needs," said Zach Ducheneaux, administrator of USDA's Farm Service Agency (FSA). "This announcement will help producers make informed decisions about land use and conservation options."
FSA is mailing letters to producers with expiring acres that detail this flexibility and share other options, such as re-enrolling sensitive acres in the CRP Continuous signup and considering growing organic crops. Producers will be asked to make the request for voluntary termination in writing through their local USDA Service Center.
If approved for voluntary termination, preparations can occur after the conclusion of the primary nesting season. Producers will then be able to hay, graze, begin land preparation activities and plant a fall-seeded crop before October 1, 2022. For land in colder climates, this flexibility may allow for better establishment of a winter wheat crop or better prepare the land for spring planting.
Ag groups asked for flexibility
In March, several U.S. agricultural groups, including the American Farm Bureau Federation (AFBF) and the National Grain and Feed Association (NGFA), asked the USDA for flexibility for acres within the CRP. The request, in the form of a letter sent to U.S. Agriculture Secretary Tom Vilsack, echoed that previously sent to Vilsack by Sen. John Boozman (R-Arkansas) that argued the deadline to sign up for CRP should be delayed due to the disruptions caused by Russia's invasion of Ukraine. Vilsack initially declined these requests in a written response.
In a statement, NGFA thanked the USDA for providing flexibility for producers, and asked it to do the same for next year.
"These actions will allow producers to respond to market signals by putting farmland back into production while providing proven environmental best practices on working lands and continuing to protect our most environmentally sensitive agricultural lands. NGFA encourages USDA to consider next year's expiring CRP contracts as well and to make any announcements in a timely manner that would allow for the planting of 2023 spring crops," NGFA President and CEO Mike Seyfert said in the statement. "We should explore every option available to assist countries facing challenges in feeding their growing and hungry populations due to the decline of exports caused by Russia's invasion of Ukraine. … During this global food crisis, NGFA encourages USDA to continue to provide more flexibility to landowners and urges Congress to make reforms in the next farm bill to prevent idling of productive farmland acres."
The American Farm Bureau Federation (AFBF) also said it appreciated the move by USDA.
"This decision will enable farmers to meet the demands of America's families and help address overseas food supply challenges created by the war in Ukraine," AFBF President Zippy Duvall said in a statement. "CRP acres have been called on for emergency uses in the past and it's appropriate now as we face the threat of a global food insecurity crisis, which is why we asked USDA back in March to provide flexibility within the program. America's farmers have answered the call before, and they stand ready to continue meeting the responsibilities of delivering an abundant food supply here at home and abroad."