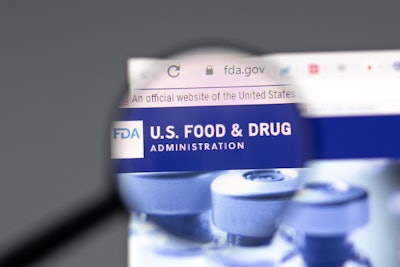 Total budget request is up 34% from the previous fiscal year
The U.S. Food and Drug Administration (FDA) is requesting a budget of US$8.4 billion as part of President Joe Biden's fiscal year 2023 budget. This is a 34% increase from the agency's appropriated funding level for the previous fiscal year.
Included in that budget is US$43 million in additional investments in food safety modernization, including animal feed safety oversight; US$24 million to optimize inspections and enhance inspectional capacity; and US$5 million in additional funding to boost review capacity for premarket animal drug submissions.
The budget builds on previous human and animal feed safety modernization activities and supports the agency's continued implementation of the New Era of Smarter Food Safety and other core food safety efforts to enable the FDA to strengthen data-driven approaches to protecting consumers, allocating regulatory oversight resources based on risk and improving the FDA's capacity to quickly respond to ongoing and evolving public health challenges. Building on the modernized food safety regulatory framework created by the FDA Food Safety Modernization Act, this funding will allow the agency to improve prevention-oriented food safety practices, strengthen data sharing and predictive analytics capabilities and enhance traceability to more quickly respond to outbreaks and recalls for human food and animal feed. The budget request advances mutual reliance efforts as part of the New Era of Smarter Food Safety by providing significant funding to state animal feed programs. In partnership with states, the FDA will expand efforts to modernize, harmonize and transform the U.S. animal feed inspection system to become more comprehensive and prevention oriented.
The budget request increases support for the recruitment and training of new FDA investigators to improve the efficiency of the agency's human and animal feed and medical product inspectional operations. With additional personnel, as well as expanding the use of new and existing inspectional tools, the FDA will enhance its inspectional capacity and build on the efforts to keep pace with rapidly expanding industry including medical counter measures and advanced manufacturing.
Continuing to meet performance commitments, including reduced application review times for animal drug reviews, is a priority for the agency. The number of animal drug submissions received have steadily increased over time and therefore more effort is needed to review the additional submissions within agreed upon user fee timeframes and subsequently increasing the availability of safe and effective animal drug products.