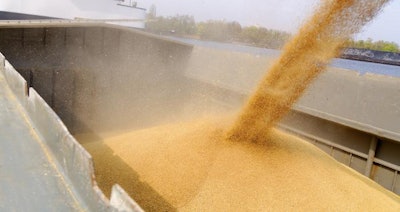 Corn, oats, cattle products among those that will no longer be exported
Ukraine has banned the export of several agricultural products in an effort to ensure food security for its own people.
Among the products that the government said will no longer be exported are corn, oats, buckwheat, millet, sugar, salt, live cattle and frozen meat, and bovine meat products. The Associated Press (AP) reported that exports of wheat were also banned.
According to the Ministry of Agrarian Policy and Food of Ukraine, the country exported 23.1 million tons of corn and 16.6 million tons of wheat in the 2021-22 marketing year. Together, Ukraine and Russia export approximately 29% of the world's wheat exports and account for 90% of the world's corn exports.
Stephen Nicholson, global grain and oilseed strategist at Rabobank, speaking to reporters last week, said the challenge now is to fill in the gaps in supply left by Ukraine and Russia, especially considering that those two countries don't carry many stocks of wheat.
According to the AP, Ukraine's minister of agrarian and food policy, Roman Leshchenko, said the export bans were in place to prevent a "humanitarian crisis in Ukraine," stabilize the market and "meet the needs of the population in critical food products."
In a separate report, the Irish Times said the war in Ukraine has created fears of food insecurity in countries that import Ukrainian agricultural commodities, such as Lebanon, where poultry feed stocks are expected to last only two months. Prices for animal feed, meat, poultry and dairy have soared there.