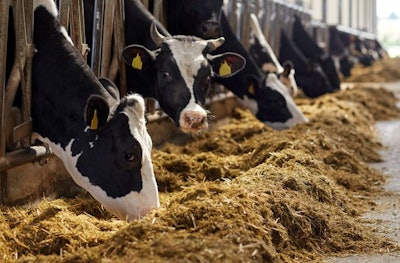 Stakeholders say proposed changes to tariff rate quotas would continue to block key export opportunities for US dairy producers
U.S. dairy groups have rejected a proposal by the Canadian government for changes to the way it allocates tariff rate quotas (TRQ) for U.S. dairy.
In January, the first ever Dispute Settlement Panel formed under the U.S.-Mexico-Canada Agreement (USMCA) ruled in favor of the U.S. in its first ruling, in a dispute about Canadian dairy TRQs.
The panel agreed with the U.S. that Canada is breaching its USMCA commitments by reserving most of the in-quota quantity in its dairy TRQs for the exclusive use of Canadian processors. The panel required Canada to come into compliance, and the Canadian government submitted its proposed changes in February.
Leading dairy groups in the U.S., including the National Milk Producers Federation (NMPF), the U.S. Dairy Export Council (USDEC) and Edge Dairy Farmer Cooperative, said the proposed changes would continue to block key export opportunities for U.S. dairy producers.
"Enough is enough. U.S. dairy producers are sick and tired of Canada's game playing on dairy market access," said Jim Mulhern, president and CEO of NMPF in a statement. "From their irrelevant celebration that the panel upheld Canada's right to retain a supply management system, a fact that no one has challenged and was not at issue in the USMCA case, to the continual efforts to undermine established trade commitments in order to favor Canadian dairy farmers, this pattern of behavior has gone on too long. All that American dairy farmers want is fair and good-faith implementation of USMCA's dairy provisions. That doesn't seem like a high bar, yet it appears to be insurmountable for Canada based on yesterday's proposed dairy TRQ scheme changes. We urge the administration to demand that Canada go back to the drawing board until it can genuinely deliver on providing the U.S. dairy industry the full benefit of USMCA."
The U.S. government is in the process of deciding whether the proposal brings Canada into compliance and has not indicated when there will be a decision on next steps.
"U.S. dairy farmers and manufacturers have only limited access to the Canadian market under USMCA. That makes it essential that Canada abide by its original commitments under that agreement," said Krysta Harden, president and CEO of USDEC. "Canada's recent dairy TRQ proposal will not lead to that result. While it's not surprising that Canada is trying to see just how little will be demanded of them, it's essential that the U.S. government insist on real reforms."
Edge Dairy Farmer Cooperative said Canada's proposed changes would not allow U.S. exporters to ship directly to the lucrative retail sector.
"It's clear that Canada is not seeking to provide actual market-based allocations," Edge President Brody Stapel said. "With passage of the USMCA, Edge was hopeful that the expanded quotas for dairy would get us closer to having real access to the Canadian market, including for high-value retail products. Excluding retailers from the new proposal will continue to keep out an important and growing segment of U.S. dairy. We urge the U.S. government to continue to work with Canada in seeking meaningful reforms that bring our important trading partner into compliance with its USMCA obligations."
According to the U.S. Trade Representative's office, a tariff-rate quota applies a preferential rate of duty to an "in-quota" quantity of imports and a different rate to imports above that in-quota quantity. In notices to importers that Canada published in June and October 2020 and May 2021 for dairy TRQs, Canada set aside and reserved a percentage of the quota for processors and for further processors, contrary to Canada's USMCA commitments. As a result of this restriction, Canada has been undermining the value of its dairy TRQs for U.S. farmers and exporters since entry into force of the USMCA by limiting access to in-quota quantities negotiated under the agreement.