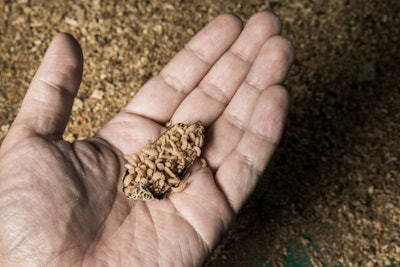 According to new research, the substrate used to produce black soldier fly larvae can impact their growth rate significantly, while previous research at Wageningen University showed that the same larvae can replace soybean meal as the protein source in diets for growing pigs.
A new study at Wageningen University and Research (WUR) in The Netherlands demonstrates in more detail how the production of black soldier fly larvae (BSFL) can contribute to the circular economy.
Already, it has been shown that BSFL represent a potentially valuable contribution to the protein portion of the diet of farmed species.
What is new is how BSFL can best fit into more environmentally sustainable systems. Circular systems in the blue and green economies can help to close water, nutrient and carbon cycles, according to WUR. Closing the gaps can reduce the loss of resources and the impacts on climate change. Such integrated systems make use of smart connections between plant, animal and marine production systems.
"If we can bring lost proteins back into the nutrient cycle, less external protein such as soy is needed," said Teun Veldkamp, a researcher at Wageningen Livestock Research. "These larvae are true omnivores; they eat almost everything. They are therefore champions in upgrading waste streams that we humans no longer wish to use."
Substrate affects BSFL growth rate
From Veldkamp's latest study, it emerges that the humble BSFL grows at widely differing rates, depending on the substrate on which it is grown. Under the same conditions, he and his colleagues measured the growth of BSFL on six different waste materials.
Compared to the control diet of chicken feed, larvae fed the catering waste from a fast-food restaurant grew almost twice as fast. As a substrate, liquid swine manure combined with chicken feed produced similar growth to the control. However, larval growth rates were inferior when fed on solid swine manure, a byproduct from the sugar industry, olive pulp, or roadside grass silage.
To a large extent, these differences were reflected in the emissions measured from each of the tested substrates. Carbon dioxide emissions were high while ammonia was low for the BSFL grown on catering waste and swine manure. For the olive byproduct and silage, the reverse was true. Veldkamp explained that the more fibrous materials were harder to digest, even for the larvae.
BSFL in pig feeds
As a protein source for growing pigs, BSFL can replace soybean meal (SBM). That is according to previous research by the WUR and Leiden University in The Netherlands.
Not only did the pigs grow well on the insect diet, gut and blood measurements indicated that they were just as healthy — healthier even — than those receiving the SBM control diet.
These conclusions were based on a study using the "FeedOmics approach." This involves the examination of data about the microbiota in the animal's small intestine, together with blood metabolite indicators.
According to WUR scientist Dr. Soumya Kanti Kar, the results demonstrate that BSFL supports the growth of gut microbes that are either indicators of a healthy gut, or are recognized as beneficial microbes that have positive effects on pig health.
Underpinning this work is that cultivation of SBM takes place on land that could otherwise be used for the production of human food. As a result, according to WUR, pressure is growing to reduce significantly the amount of SBM used in animal feeds. Because they can be grown on wastes from food production, BSFL potentially represent a more sustainable protein source.
More on BSFL as a feed ingredient
This year, some key points were identified when considering BSFL as a feed ingredient for poultry and other livestock.
Previously, the potential use of the larvae has been explored in diets for broilers, aquaculture and cattle.
Within the past few months, European Union law has been amended to permit the inclusion of insects in animal feeds.