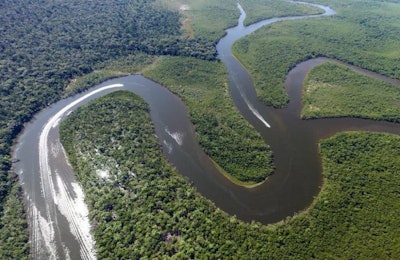 With policy support, demand for insect meal could exceed 500,000 metric tons by 2050, report says
Growing demand for insect meal could have significant benefits for livestock and wildlife habitat, according to a July report from the World Wildlife Fund and Tesco supermarkets.
Using conservative estimates for demand from salmon, poultry and pig production, the WWF estimated that total demand for insect meal in the U.K. could reach 540,000 metric tons by 2050, with 240,000 tons produced directly within the U.K.
At that level of production, according to the report, insect meal could replace nearly one-fifth of the U.K.'s projected 2050 soy import volume, freeing up 150,000 hectares of land, roughly equivalent to the London metropolitan area, that would otherwise be dedicated to crop production.
"Really it's a question of, how can we use more land to feed more people directly, and in doing so help us create more space for nature," said Mollie Gupta, forest commodities manager for the WWF's U.K. office. "We need other long-term strategies that are going to help us reduce pressure on places like Brazil that we rely on to produce our commodities like soy. This is not about abandoning the use of soy, because we know it's a good ingredient and efficient crop. But it's about what we can do to reduce … pressure on the landscape."
Gupta said WWF has been investigating a variety of alternative feed ingredients for their potential to promote land and wildlife conservation, but has emphasized insect meal because it is much closer than products such as algae oil to achieving the necessary level of commercial scale.
"We know the scale at the moment is not what we need it to be for it to compete with huge commodities like soy," she said, "but it's on the path to get there, and it's just a matter of getting there."
Gupta said she believes the initial growth of insect meal production will come from freshwater fish farming, because insects are already approved for inclusion in fish diets. But for insect meal to achieve its full potential, she said, would require the pork and poultry industries to take an interest in the ingredient and to push for changes to legislation that would allow for the use of insects in feed for a greater variety of livestock species.
She said she hoped the WWF report would encourage livestock industry leaders by demonstrating the sustainability potential of insect meal.
"When we approached this problem, we thought even if we can displace 2-5% of soy, that would be a massive outcome, because we use huge amounts in the U.K.," Gupta said. "But the fact that 20% of our soy imports could be displaced—that's massive."
In addition to industry and policy support, Gupta said research into new kinds of materials that could be fed to insects was also critical to maximize the budding industry's environmental benefits. Ideally, she said, insect farms would not use materials that can already be eaten by humans and animals as substrate for raising insects. However, the availability of potential insect substrates that do not fall into this category is limited, she said.
"Eventually, once demand fills in, the availability of those substrate streams will limit the availability of insect meal," she said.