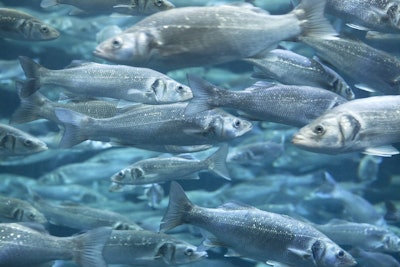 Demand for seafood is growing, while the price of fishmeal is high around the world
As the aquaculture industry grows globally, the U.S. soybean industry sees an opportunity to also grow.
Speaking during the Kansas Agriculture Summit's soybeans and other oilseeds session on July 27, Carlos Campabadal, grain storage and feed manufacturing specialist, International Grains Program (IGP) Institute at Kansas State University (KSU), talked about the potential future for soybean meal to be used as fish feed.
Campabadal said that while shrimp, tilapia and other seafood may not be in high demand in the Midwestern United States, it is a rapidly growing business worldwide, so the demand for aquaculture feed is strong. The soybean industry would benefit from gaining acceptance as a feed source for fish and shrimp.
"The key is to try to substitute soybean meal as the high protein source for that feed, instead of just using that much fishmeal," Campabadal said. "Fishmeal is expensive around the world. There's a lack of it, and aquaculture is a growing market. Everybody wants to eat fish, and the oceans aren't supporting that."
Research is being done to examine the benefits of soybean meal in aquaculture, with the Kansas Soybean Commission providing funding for that research, Campabadal said.
Touting United States soybeans' higher protein content
As the soybean industry seeks to expand its reach into the aquaculture market, as well as increase shipment to other geographical markets, Campabadal told the Kansans in attendance that their state's soybeans have a "good advantage" over those grown in other regions, because they have a higher protein content, and therefore a higher amino acid profile than soybeans grown elsewhere.
Allen Featherstone, head of the KSU Department of Agriculture Economics and director of the university's Master in Agribusiness program, backed up Campabadal's claims of the superiority of U.S. soybeans. He said one of the students in the master's program went to a number of feed mills in China and made evaluations based on the source of the beans.
That student found that in China, locally manufactured soybean meal from U.S. soybeans had a higher content of major amino acids such as lysine, methionine, cysteine and threonine than meal that used beans from Brazil. Soybean meal utilizing U.S. soybeans also had higher sucrose levels, he said.
"So, soybeans are not soybeans," Featherstone said.