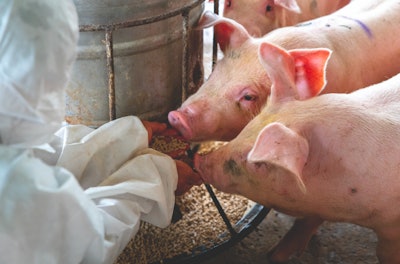 Multifactorial approach needed to ensure pig health status, experts say during KSU Swine Day
Good swine health relies on the management and skills of people who work on the farm, according to Kansas State University (KSU) swine research faculty who spoke November 18 during the 2020 KSU Swine Day.
Mike Tokach, KSU swine nutrition professor, said the health status of pigs depends on the people who take care of them.
"Maintaining continuity of nutrient intake after weaning begins and ends with people," he said. "We need people in the barn that can read the pig and ensure they have the right environmental temperature, make sure they have feed and water available to them, and ensure that they have timely treatment and identification of those fall-behind pigs."
If there are "trouble spots" or particular challenges, they can be overcome "by having good people in the barn," he said. "Conversely, we can do (everything) right and, with the wrong people, sometimes it still fails."
Jordan Gebhardt, KSU assistant professor in swine nutrition, who spoke about strategies for swine production without zinc oxide, said nutritional solutions must be paired with good management to be successful.
"Control of post-weaning diarrhea without the use of zinc oxide and without routinely using antimicrobials must be accomplished through a combination of management and nutritional factors, and no single silver bullet will be successful to replace zinc oxide," he said.
The use of zinc oxide at pharmacological doses will be banned in the EU by June 2022, and it is possible there will be similar legislation in the U.S. eventually. Concerns around the use of zinc oxide in pigs includes the buildup of heavy metals in the environment.
"Unfortunately, there is no clear answer or single strategy to replace pharmacological levels of zinc oxide in early nursery diets," Gebhardt said. "If future regulatory restrictions are placed on the use of zinc oxide in the United States, a multifactorial approach would be the most effective strategy to control post-weaning diarrhea and improve growth performance without using feed-grade antimicrobials for the treatment of clinical post-weaning diarrhea."
This multifactorial approach should include management changes and dietary changes, he said.
"Nutritional approaches alone are not likely to result in the desired level of performance in a world without zinc oxide. Other approaches may be beneficial if used in combination, including maintaining a high health status within both the sow and wean-to-finish populations. If healthy pigs are weaned into a clean environment with few multifactorial disease issues, post-weaning diarrhea may be much less of an issue. Additionally, increasing weaning age may be beneficial to ensure that pigs are robust at weaning, start well on feed and are set up for success in the wean-to-finish period."