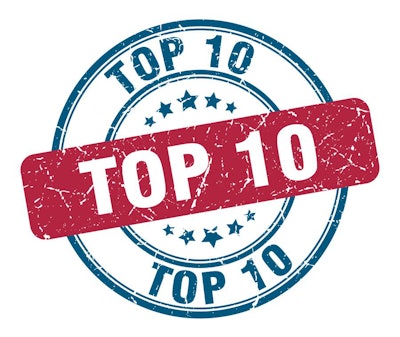 Find out what you missed in feed news from last month
See what topics were the most popular in the animal feed industry in October.
---
Elanco Animal Health Inc. says it will restructure its business — eliminating hundreds of positions — and has started to deleverage by making a US$100 million payment on the loan that financed its acquisition of Bayer Animal Health.
Though previously expected to remain in the range of US$9 per bushel, soybean prices exceeded US$10.50 per bushel in late September, marking the first time soybeans have sold for more than US$10 since June 2018.
Combining essential oils and organic acids could boost the efficacy of both potential antibiotics alternatives, according to a new study from the University of Manitoba.
There are nine animal feed producers in Japan that produced more than 800,000 metric tons of compound feed in 2019, according to Feed Strategy's Top Feed Companies data.
Royal DSM has completed its acquisition of Erber Group's Biomin and Romer Labs for an enterprise value of EUR980 million (US$1.1 billion), the companies announced on October 2.
Poultry producers wanting to have a no-antibiotics-ever (NAE) operation would be wise to consider an all-vegetarian feed, said Dr. Bruce Stewart-Brown, senior vice president for technical services and innovation for Perdue Farms.
For the first time, Poland has recorded an outbreak of African swine fever (ASF) in domestic pigs outside an existing designated disease control area.
Over the past week, Romania is the European country that has reported the highest number of new cases of African swine fever (ASF) among domestic pigs.
Limiting the protein content of animal feed to reduce emissions of nitrogen can be done, but any regulations to that effect must take a changing climate into account, according to Wageningen University.
Is the secret to controlling heat stress in poultry contained in their genes? A new study has identified potentially complex interaction between feed, temperature and appetite genes.