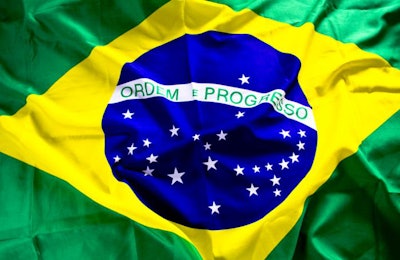 Freeze will apply to countries outside Mercosur and will last until early 2021
Brazil's economy minister said the country will suspend tariffs on corn and soybean imports from countries outside the Mercosur trade group until 2021 in an effort to reduce food prices.
According to a Reuters report, tariffs on soy imports – including soybean meal and soy oil – will be suspended until January 15, 2021, and tariffs on corn will be paused until March 31, 2021. Tariffs on corn and soy are 8%, 6% for soy meal and 10% for soy oil.
High corn and soy prices are affecting poultry and pork producers by increasing feed costs. The pig and poultry sectors had previously requested that the government suspend tariffs on imports for feed ingredients.
"Record high prices for both grains have impacted food prices that are fueling inflation and squeezing incomes of Brazilians that have already been hit by the coronavirus pandemic," Reuters said. "Inflation in August hit its highest in four years for that month, driven by rising fuel and food costs."
According to Brazil's animal feed producers' association Sindirações, sales of poultry feed in Brazil are expected to continue growing this year as demand for the country's poultry and other animal proteins continues to rise at home and in export markets.
Across all species, demand over the first quarter rose by 4.3% to reach 18.9 million tons. This figure, however, is expected to soften slightly as the year progresses, meaning that, by year-end, total animal feed sales will record a still healthy growth rate of 4%.
Last month, Brazil eliminated tariffs on rice imports until the end of 2020, also aimed at slowing inflation.