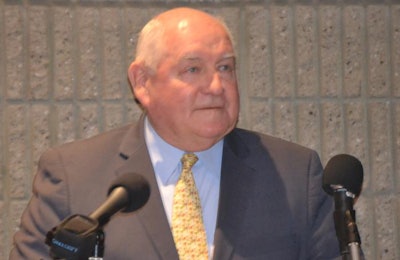 US Office of Special Counsel has found that Sonny Perdue engaged in political activity during a USDA event in August
The U.S. Office of Special Counsel (OSC) has found that Secretary of Agriculture Sonny Perdue violated the Hatch Act and has been ordered to reimburse the U.S. government for "costs associated with his political activity."
The Hatch Act restricts certain federal executive branch employees from engaging in political activity while acting under their official title. Political activity while on duty is not prohibited "if the costs associated with that political activity are not paid for by money derived from the United States Treasury."
The OSC said it conducted an investigation into an August 24 event that was "generally related to USDA's Farmers to Families Food Box Program." At that event in Mills River, North Carolina, Perdue spoke about President Donald Trump's 2016 election and 2020 campaign for re-election.
"Taken as a whole, Secretary Perdue's comments during the August 24 event encouraged those present, and those watching remotely, to vote for President Trump's reelection," OSC said. "His first words were not about USDA, but about the president's 2016 and 2020 campaigns. Secretary Perdue described why those in Mills River voted for the president in 2016 and gave them a reason to vote for him again in 2020 — because under a Trump Administration, they will not be 'forgotten.' He then used this campaign pledge to segue into a discussion about the Farmers to Families Food Box Program, a program in which many of those in the audience had a vested interest. Secretary Perdue described President Trump's recent action to bolster the program and said, 'that's what's going to continue to happen — four more years — if America gets out and votes for this man, Donald J. Trump.' In doing so, he described a program over which he had authority, one that positively affected those present, and stated that the program would continue if President Trump were reelected."
The OSC said it concluded that the speech was "directed toward the success of the president's re-election campaign; that it therefore constituted political activity regardless of whether it contained 'factual, predictive, and/or policy-based' statements, as there is no exception in the law for such statements; and that by delivering the speech in his official capacity Secretary Perdue violated the Hatch Act prohibition against using his official authority to interfere with or affect the result of an election."
The OSC said that, because Perdue engaged in political activity while on duty and the costs of that political activity were paid for by funds derived from the Treasury, the Treasury must be reimbursed.
"Doing so does not, however, cure the violation whereby he used his official authority or influence to interfere with or affect an election," OSC said, adding that if, in the future, Perdue "engages in prohibited political activity while employed in a position covered by the Hatch Act, we will consider such activity to be a knowing and willful violation of the law that will likely result in further action."