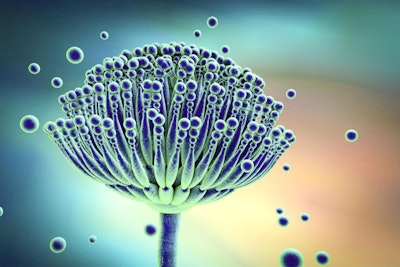 Find out more about mycotoxin contamination and how to evaluate animal feed for toxicity levels
Mycotoxins pose a continual challenge to the animal feed industry.
According to Swamy Haladi, Ph.D., global program manager, mycotoxin risk management at Trouw Nutrition, more than 80% of agricultural commodities are contaminated with mycotoxins.
During the September 23 webinar, "Mycotoxin interactions: An open challenge to global animal industry," Haladi answered 10 questions that are important to evaluating mycotoxin risk in feed.
How many mycotoxins are there?
There are more than 500 known mycotoxins. The major groups of toxins are Fusarium, Aspergillus, Penicillium and Ergot; each group contains multiple mycotoxins.
Are mycotoxin concentrations increasing?
Mycotoxin levels vary depending on temperatures and the amount of rainfall during the growing season.
"Generally, the feed contains more mycotoxins as compared with the raw materials because we know the feed is made of four to 10 different ingredients," Haladi said.
Corn, wheat and barley, rice, and soybeans and soybean meal are key raw materials that are prone to mycotoxin contamination.
"A lot of people think that the protein sources don't have mycotoxins, but they do contain zearalenone, DON, T-2 and aflatoxins," he said.
What are the regulatory limits for mycotoxins?
In most regions, only aflatoxin levels are regulated, whereas values for other mycotoxins are only guidance. Regulated or guidance values vary depending on the species.
"In general, the scientific opinion is that the regulatory levels, the guidance levels, set by authorities for mycotoxins in feeds tends to be higher than what the animal can tolerate," Haladi said.
Do we test for enough mycotoxins?
While testing methods differ widely on the number of mycotoxins they detect, Haladi said it is always better to test for more types of mycotoxins.
However, he added, "the challenge you need to look at is, as a feed miller, as an integrator, how long can you wait for these results? Because the trucks are coming to the mill and you need to make a quick decision."
This is why he said rapid tests are preferred in many cases.
Why do we test the "Big 6?"
The "Big 6" mycotoxins are aflatoxin B1, ochratoxin A, T-2 toxin, deoxynivalenol (DON), fumonisins and zearalenone.
"If these 'Big 6' are present, you can assume that there are another 30-40 mycotoxins present" because multiple mycotoxins are produced by the same fungus, Haladi said.
If the "Big 6" are absent, does that mean the feed is safe?
Even if mycotoxin sampling does not detect any of the "Big 6," Haladi said it is still hard to tell if the feed is safe because it could still contain mycotoxins for which the feed was not tested.
"No one can be sure because, how good is sampling?" he said. "We always have to take these numbers with a grain of salt."
How do we recognize mycotoxin issues in animals?
While high levels of some toxins present clear symptoms in certain animals, low levels of toxins may not present clear symptoms. This is when a feed analysis should be performed.
Haladi said the following factors should be considered:
History of raw material sourcing
Mycotoxin analysis report
Animal symptoms
Post-mortem findings
What are emerging mycotoxins?
According to Haladi, emerging mycotoxins are those that are not routinely analyzed or regulated but are rapidly increasing in incidence rates. These include fusaric acid, fusaproliferin, sterigmatocystin, alternariol and mycophenolic acid, among others.
What are masked mycotoxins?
Masked mycotoxins are "biologically modified Phase II metabolites formed by plant defense mechanisms through glucosylation catalyzed by uridine diphosphate-glucosyltransferases," according to Haladi. Masked mycotoxins were first discovered in 1990 and, since 2010, the U.S. Food and Drug Administration, the European Food Safety Authority and the Joint FAO/WHO Expert Committee on Food Additives have been assessing the risk of masked mycotoxins.
What are mycotoxin interactions?
When more than one mycotoxin occurs at one time, there is likely to be an interaction between them.
"One mold can produce many toxins, and many molds can be present in one raw material. And then, one feed contains many raw materials. So you can keep on adding the factors and that is the reason why we have multiple mycotoxins present in the feed, leading to the mycotoxin interactions and the greater adverse effects in animals," Haladi said. "Mycotoxin co-occurrence or co-contamination is the rule today; its is not an exception. It is just a question of testing more and understanding it."
The nature of mycotoxin interactions depends on several factors. Interactions can be additive (observed effects are the same as expected), synergistic (observed effects are greater than expected) and/or antagonistic (observed effects are lesser than expected).