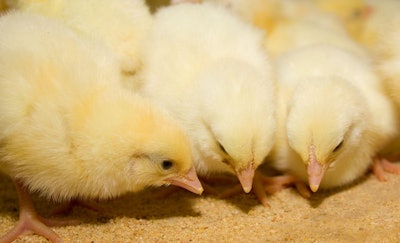 In the Islamic Republic of Iran, a shortage of poultry feed and consequent high prices have led 7,000 farmers to cease production in recent months.
As some poultry farmers in Iran have halted production altogether, many of those who continue in the sector have slashed the number of birds they rear. The poultry farmers' organization has called on the government to take action on the provision of affordable feeds, reports Financial Tribune.
The deputy head of the Iranian chicken producers' association blames the situation on a lack of commitment from government to provide subsidized poultry feeds.
According to Habibollah Asad-Nejad, members of the organization are paying up to IRR120,000 (US$2.85) per kilo of feed. This compares with the regular price of around IRR40,000.
As poultry growers under financial pressure leave the sector, breeders have cut back production of day-old chicks. They have cut output by around 10 million per month to 105 million-110 million. This reduction is already starting to affect the chicken meat market in Iran, reports the association. As a result, the consumer price index has been rising 10-20% year-on-year over the past two quarters.
To avoid the grave consequences on an already volatile market, the association has called on the government to subsidize feed costs for the sector.
Multiple factors affect Iran's animal feed sector
Like many other nations, the Iranian economy has been hit hard by the coronavirus (COVID-19) pandemic since February.
In a bid to encourage exporters to boost their trade in products other than oil, the Iranian government ended the payment of subsidies for the import of animal feed premix ingredients earlier this year.
One month ago, the United Nations' Food and Agriculture Organization (FAO) delivered pesticide and equipment to Iran to help support the country's battle against desert locusts. A senior local official for the organization reported that the chemical treatment of more than 400,000 hectares of cropland and pasture in Iran helped to control pest numbers. Now a national locust management strategy is being developed, ahead of the return of the insects to their breeding grounds in November.
In the past few months, huge numbers of desert locusts surged across much of Africa and Asia. At the time, FAO reported that the upsurge began in 2018, when weather conditions allowed the locust population to expand undetected and out of control. With their vast numbers and voracious and varied appetites, desert locusts exacerbate difficulties in countries where food supplies are already insecure.