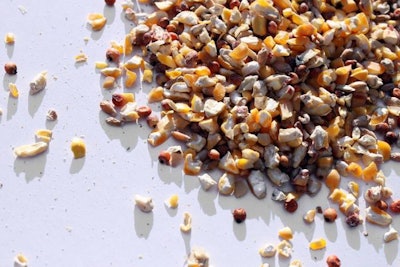 Corn market sees 'roller coaster year' while soybean crop expected to set record, Rabobank report says
Demand for animal feed rose during processing plant shutdowns early on in the novel coronavirus (COVID-19) pandemic, according to Rabobank's August 2020 North American Agribusiness Review
From January to June, corn demand increased 0.4% and soybean meal increased 0.7%, compared with the same period the previous year.
Feed prices continue to fall, while alfalfa hay prices stayed higher. In June, alfalfa hay was down 12% from the previous year, but 6% higher than the previous five-year average. First-half alfalfa hay exports were up 16% from 2019, and exports to China were up 81%; other hay exports to China were up more than 400% from 2019.
Corn has 'roller coaster year'
The U.S. corn market has had "a roller coaster year," Rabobank said, with factors including drought, damaging storms across the Corn Belt, fewer planted acres but record yield, and increased sales to China.
"There has been much hype around Chinese buying of U.S. corn, but the market has been slow to react," the report said, adding that such purchases need to be put into perspective.
Rabobank said the market has also been slow to react to the effects of the damaging derecho storm that swept through the Corn Belt in mid-August. Rabobank estimates that Iowa could lose between 325 million and 375 million bushels of corn production as a result of the storms, and yield could drop from 202 bushels per acre to 175 bushels per acre.
Record yield expected for soybeans
The U.S. soybean crop is expected to see record yield, at 53.3 bushels per acre, a 3% increase from the previous record in 2016. But, because of lower acreage planted, the total crop size is unlikely to hit a record. Soybean conditions are also well above average. Trade tensions with China are expected to continue to affect the U.S. soybean market.
View our continuing coverage of the novel coronavirus (COVID-19) pandemic.