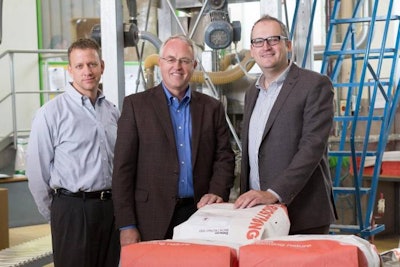 Delacon Biotechnik GmbH and Land O'Lakes Inc. are expanding their longstanding partnership in order to research and test phytogenic feed additives in the United States.
On January 27, at the 2016 International Production & Processing Expo in Atlanta, Georgia, Delacon CEO Markus Dedl; Dave Hoogmoed, executive vice president and chief operating officer for the Arden Hills, Minnesota, company; and Tim Makens, general manager for Land O'Lakes' newly created PMI Nutritional Additives division, sat down with WATT Global Media to discuss the news.
"The reason we did that is to take relationships like Delacon to a much bigger, a higher and a broader level," Hoogmoed said. "So, we'll step out of the Purina box and we'll be able to address other manufacturers, the integrators and other pieces of our industry."
The two companies have worked together since 2000 and hope the expanded partnership can help the pair research and develop new uses for the plant-based feed additives for poultry, swine, ruminants and other livestock animals. The agreement comes as U.S. producers prepare to cope with the implementation of the U.S. Food and Drug Administration's Veterinary Feed Directive in 2017. The two companies hope additional research and trials will expand phytogenic additive use as a replacement for antibiotics used as a growth promoter.
Dedl said the company's experience developing products for use in Europe, where the use of antibiotics for growth promotion has been banned by the European Union since 2006, will help the partnership come up with new uses for phytogenic products.
"The tendency now in the animal nutrition industry is in a period of complete change, we can see things being turned upside down now with upcoming legal regulations, for example … but also changes in consumer tendencies, consumer expectations of different companies also in the food sector, so all that leads to rethinking how we feed animals." Dedl said. "Delacon has been doing those things in different countries around the world for the last 27 years; we are used to offering alternatives to existing synthetic additive programs, natural alternatives that give a similar effect."
Delacon believes its phytogenics can help farmers solve problems presented by the new regulation of antibiotics in animal feed. Its products, according to a release, can help promote growth, improve sensorial stimulation and palatability, enzymatic activity in the intestinal tract, nutrient utilization, and improved reproductive performance as well as antioxidant effects and enhanced quorum sensing inhibition.
Dedl said phytogenics also have environmental benefits, such as reducing ammonia, methane and greenhouse gas emissions from livestock, and can help make farming more sustainable.