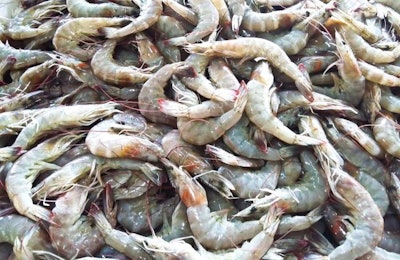 In 2018, Vietnam failed to reach its target of US$10.5 billion for fish and seafood exports, but the country's fisheries department is forecasting this figure will be reached this year.
Lower-than-expected shrimp prices were blamed for the shortfall in exports last year, but the country's seafood sector achieved a 5.8 percent increase from 2017, at a value of US$8.79 billion, according to the Vietnam Association of Seafood Exporters and Producers (VASEP), citing figures from the General Department of Fisheries.
This year's export target of 8.08 million metric tons (mmt) comprises 4.38 mmt of farmed seafood — 5.6 percent more than in 2018 — and 3.7 mmt of wild-caught species, an increase of 2.6 percent on last year.
With the global shrimp market oversupplied and prices low, the targets are ambitious in light of the current conditions, according to VASEP. Demand was down last year in the U.S. and Canada, and large stocks were held in other important markets, such as Japan, South Korea and the European Union (EU).
Trade agreements
Key to the future development of the sector is the Comprehensive and Progressive Agreement for Trans-Pacific Partnership (CPTPP), which Vietnam joined earlier this month. This agreement involves tariff-free trade in seafood to other signatories, which include the potentially valuable export markets of Australia, Canada, Japan, Mexico, New Zealand and Singapore, as well as Peru, Chile, Brunei and Malaysia.
If ratified as expected this year, a similar deal between the European Union and Vietnam — the European Vietnam Free Trade Agreement, EVFTA — will immediately halve the tariff rate on Vietnamese seafood entering the EU, which would help to boost this trade to a major market, according to VASEP.
For 2019, Vietnam's largest shrimp company, Minh Phu Seafood Corp., has forecast a 13.2 percent increase in its exports from last year to US$850 million.
Pangus catfish market
Prospects are different for the coming year for another important cultured species, pangasius (Pangas catfish).
Last year, exports increased by 26 percent to reach a record US$2.26 billion, buoyed up by high prices.
Top pangasius exporter, Vinh Hoan, reported its 2018 sales up 26 percent year-on-year. With average prices 33 percent higher than the year before, the firm said higher raw material costs held back growth.
For this year, local securities company, BIDV Securities, has forecast a 7 percent fall in pangasius prices. A fisheries department forecast of a rise in the sector's exports of 6.2 percent to US$2.4 billion will likely be achieved by increasing production.
One factor that may help to achieve the seafood export targets is the trade war between China and the U.S., according to BIDV, as this opens opportunities for Vietnamese exports to both of these major markets.
Latest figures from the United Nations' Food and Agriculture Organization (FAO) put total Vietnamese aquaculture production (fish, crustaceans and mollusks) in 2016 at more than 3.62 mmt, with an estimated value of US$9.35 billion. Most cultured species in terms of volume were pangasius (almost 1.2 mmt), miscellaneous bony fish (618,000 metric tons, mt), whiteleg shrimp (Penaeus vannamei; 380,000 mt), Asian tiger shrimp (Penaeus monodon; 244,000 mt), and mollusks (225,000 mt).