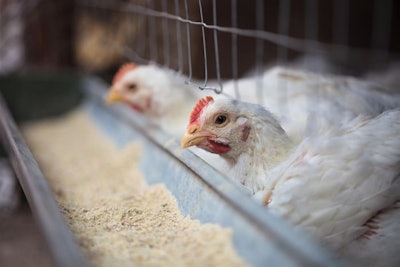 Bangladesh's Department of Livestock Services (DLS) is strictly monitoring the quality of poultry and livestock feed across the country.
Livestock officials will regularly inspect poultry and livestock feed and take legal action if it finds product of "substandard quality or mixed with antibiotics, hormones or any other element harmful for human health," according to a report.
"There is a general directive for such inspection, but we have ordered (officials) to conduct inspections more strictly now," said Hiresh Ranjan Bhowmik, DLS director general.
The DLS this month banned the import of meat and bone meal for chickens after it found low-quality product, which could be contaminated with disease, bacteria, antibiotics or hormones. This week, two people in the country were sentenced to jail time for producing poultry feed using leather waste treated with toxic chemicals. Law enforcement officials are investigating other syndicates suspected of making poultry and fish feed with leather waste from tanneries.
Customs officials also will step up its inspections of imported animal feed, which will be tested to detect misdeclaration of ingredients.
While feed industry associations in Bangladesh praise the government's focus on feed safety, they also expressed concern that a ban on meat and bone meal would raise production costs by at least 10 percent because of the higher cost of alternative ingredients.