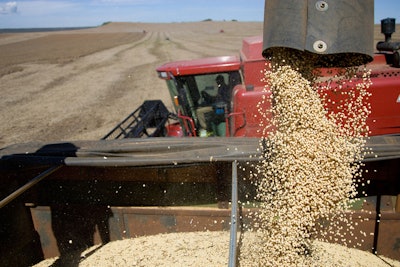 China will do away with tariffs on imports of animal feed ingredients from five Asian countries, according to reports.
The country's Ministry of Finance said it would remove tariffs on soybeans, soymeal, soybean cake, rapeseed and fishmeal from Bangladesh, India, Laos, South Korea and Sri Lanka beginning July 1. Tariffs on soybeans are at 3 percent, rapeseed at 9 percent, soybean meal and cake at 5 percent and fishmeal at 2 percent, reports said.
The move shows China is trying to lower its dependence on U.S. soybeans as the two countries engage in a trade war. In May, reports said China had stopped buying U.S. soybeans. Soybeans are the top U.S. agricultural export to China, and the U.S. is the second-largest soybean supplier to China, behind Brazil. In 2017, China imported $13.9 billion of U.S. soybeans, 61 percent of total U.S. exports and nearly one-third of annual soy production, according to the American Soybean Association (ASA).
On June 15, the U.S. said it would move forward with a 25 percent tariff on $50 billion worth of Chinese exports, and China promised retaliation with tariffs on U.S. products, including soybeans, corn and wheat.
China imports 90 percent of its soybean demand. It is unknown how the move by China will affect its imports this year. India, the largest producer of soybeans of the five countries, has little left for export this year. The other countries do not produce much of the commodity.