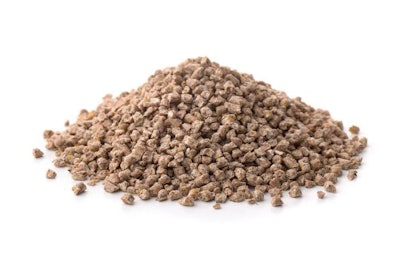 Zuellig Gold Coin is reportedly on the market for $500 million, according to Bloomberg.
According to WATTAgNet, Zuellig Gold Coin is one of the largest privately owned agribusinesses in Malaysia, producing concentrates, premix and compound feeds for poultry, pigs, ruminants, horses and specialty breeds. Part of the Zuellig Group, Zuellig Gold Coin consists of several subsidiaries that collectively employ about 2,400 people across 10 Asian countries. In 2016, the company had 22 feed mills and manufactured 2.5 million metric tons of feed.
Bloomberg said the company could be sold this year, and is likely to attract interest from international animal feed companies.
The Asia-Pacific region is the world leader in animal feed production, accounting for one-third of total production. In 2017, the region overall saw 3 percent growth; however, key Asia aquaculture markets experienced decreases in production, according to Alltech's 2018 Global Feed Survey. Asia-Pacific accounts for 70 percent of world aquafeed volumes.