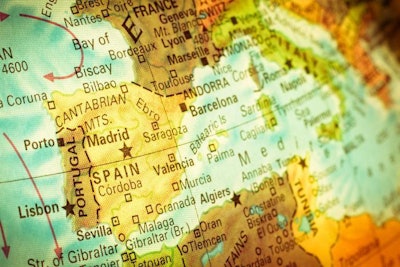 Alltech, a global animal health and nutrition company, has acquired Solbiosur, a specialized agricultural and horticultural crop solutions company in Spain.
Solbiosur is well regarded in Spain as being a provider of innovative agricultural and horticultural solutions dedicated to improving yield and efficiency for the producer. For more than 10 years, Solbiosur has manufactured and distributed agricultural and horticultural solutions that are respectful to the environment and are cost beneficial for the producer. With the arrival of Solbiosur to the Alltech family of companies, agricultural and horticultural producers in Europe can enjoy quality nutritional and highly efficient solutions.
"Solbiosur has worked in collaboration with Alltech for the past five years," said Jomi Bernad Blanch, Iberian regional director for Alltech. "Our coming together will mean an ability to deliver greater value to our agricultural and horticultural farming customers. Between Alltech's primacy in science and Solbiosur's distribution strength and reach, we have a winning combination for delivering greater crop efficiency and profitability directly to our customers."
Alltech and Solbiosur have identified possible growth opportunities, which may include new product development and expanded routes to market.
"This is an exciting opportunity for the growth of our business, not just in Europe, but around the world," said Steve Borst, general manager of Alltech Crop Science. "We are excited to have Solbiosur join with the Alltech Crop Science team and we look forward to the customer support this will enable us to provide in the region. Both companies have a very progressive mindset on the future of agriculture and the technologies needed to improve the health of crops while maintaining a high standard of environmental stewardship. This is a thrilling time for both of our businesses, and we look forward to the growth opportunities it will provide."
Their coming together forges a natural crop science center of excellence for Europe.
"Joining the Alltech family creates an exciting future for Solbiosur," said Pedro Navarro, commercial director at Solbiosur. "Alltech is a well-respected agricultural leader providing nutritional solutions across animal and crop production. Solbiosur's new journey with Alltech will further strengthen our ability to deliver crop and horticultural nutrition solutions to a wider market given Alltech's reach in more than 120 countries worldwide."
Solbiosur will continue to distribute from and manufacture in Murcia, Spain, due to the region's primary position as one of Europe's largest horticultural areas. Solbiosur will be led by Navarro, who will report directly to Blanch. Together, Alltech and Solbiosur employ more than 40 people in Spain and more than 5,000 people globally.