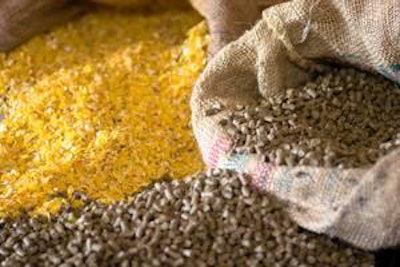 The Brazilian feed industry in 2013 is expected to rebound from the reduced production it experienced in 2012. However, Dr. Ariovaldo Zani, CEO of Brazilian Feed Industry Association Sindirações, believes gains made this year will merely offset the losses from the previous year. Feed production during the first quarter of 2013 reached 14.6 million metric tons, a 1 percent drop from the first quarter of 2012, but Zani expects feed production to improve in upcoming months.
"The expected reaction of the Brazilian economy along the second half may still give the feed industry a push of 3 percent in production, enough only to offset losses accumulated last year," he said.
An estimated 63 million metric tons of feed were produced in 2012, a decline of about 2.3 percent from the amount produced in 2011. The reduction was influenced by weakened demand and a loss of domestic and international competitiveness, Zani said.
Broiler feed
From January to March, the broiler sector consumed 4.2 percent less feed than the same quarter of 2012, but it is expected to reach 31.7 million metric tons by the end of the year, an increase of 2.1 percent compared to 31.1 million tons produced in 2012. The recovery of the live bird prices and easing costs of soybean meal and corn can increase chicken feed demands, Zani said.
Layer feed
The production of feed for laying hens grew by 5.4 percent and totaled 5.2 million metric tons in 2012, and an upward trend in egg prices helped the demand for layer feed advance 3 percent in the first quarter of 2013. If these trends continue, Zani anticipates production of 5.4 million metric tons of layer feed, a 2.6 percent improvement for the year.
Beef cattle feed
From January to March of 2013, feed demand remained stable compared to the same quarter last year. Feedlot intentions may increase in the second cycle, which could result in a 4 percent increase in demand for feed, with production reaching 2.7 million metric tons during 2013. That compares to the 2.6 million metric tons of feed produced in 2012, which was a five percent drop from 2011.
Dairy cattle feed
Zani forecasts 4.9 million metric tons of dairy cattle feed to be produced in 2013, up from the 4.8 million reported in 2012. In the first three months, feed consumption increased by 3 percent compared to the first quarter of last year.
Growth of the dairy cattle feed sector can be seen if the price of milk remains on trend of recovery and the costs of corn and soybean keep downward, he said.
Swine feed
A decline in international shipments and weakening of domestic pork prices cooled demand for swine feed, which increased only 1 percent in the first quarter of 2013. Regardless of the continuing trend of consolidation of independent farmers and flat breeder herd movement, the feed industry can grow by 2.5 percent and produce 15.5 million metric tons of feed in 2013, Zani said. The swine feed sector produced 15.1 million metric tons in 2012, which was a 2.2 percent drop from the previous year.
Pet food
The production of dog and cat food grew 4 percent in 2012 and reached about 2.3 million metric tons. Production can still grow another 5 percent in 2013 and exceed 2.4 million metric tons.
Fish and shrimp feed
During the first quarter of 2013, more than 200,000 metric tons of fish and shrimp feed were already consumed, which could lead to the production of more than 740,000 metric tons in 2013, a year-over-year increase of about 14 percent.
In 2012 demand for fish feed was 575,000 metric tons, characterized by a continuous increase that reached a growth rate of 15 percent, while the production of shrimp feed increased 7.1 percent and totaled 75,000 metric tons.