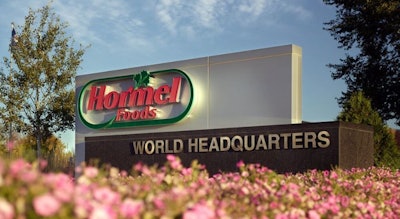 Hormel Foods
Transitioning pig farms to become compliant with Proposition 12 standards in California was not an inexpensive endeavor for Hormel Foods, but the Hormel CEO Jim Snee said he expects the company to start recovering those costs in the near term.
Proposition 12 calls for the elimination of farms that use sow gestation stalls from the supply chain for all pork produced and sold in California.
Speaking during a quarterly earnings call on June 1, Snee gave an update on the financial situation related to that transition, although he did not disclose just how much those associated costs were.
"We have made significant commitments and investments to ready the business to serve our customers in California," he said. As of January 2022, we have been Prop 12-compliant on a portion of our pork supply, absorbing the costs of compliance in our operations at the time. As we begin serving the important California market under new regulations later this month, we expect to begin recovering costs from these investments."
At least one pig-related product in Hormel Foods' diverse portfolio performed well during the most recent quarter, which was the second quarter of the 2023 fiscal year. The company revealed that the Hormel Black Label brand was the only national bacon brand to increase household penetration over the past six months, increasing its volume 22.4%, according to data from Circana.
For the quarter, Hormel reported net sales of US$3 billion and an operating income of US$296 million.