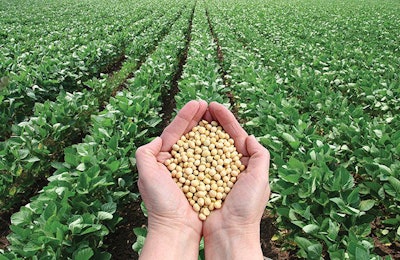 Soy acres fall short of anticipated record after wet spring weather in northern US plains.
U.S. farmers planted fewer soybeans than anticipated this spring. But new numbers from the U.S. Department of Agriculture (USDA) suggest the missing acres didn't go to other crops and may represent possible prevented planting areas due to this spring's wet weather, experts say.
The U.S. planted a total 88.3 million acres of soybeans and 89.9 million acres of corn, according to a report released June 30 by the U.S. Department of Agriculture. While the total corn acres are roughly in line with what the USDA and industry experts anticipated earlier this year, soybean planting fell short of the record 91 million acres USDA expected to see as of March.
The total acres planted also fell short of nearly every estimate released by industry analysts, according to Mac Marshall, vice president of market intelligence for the U.S. Soybean Export Council (USSEC).
"The trade consensus was looking for a reduction, but not of this magnitude," he said during a June 30 webinar.
On-trend yields could still produce a record soybean crop in the U.S. this year, Marshall said. But exactly where the nearly 3 million acres cut from USDA's projections disappeared to remains an unanswered question. Crops such as barley and cotton saw increases in acreage this spring. Marty Ruikka, president of The ProExporter Network, said he believes much of it will turn up as prevented plantings later this year.
"We won't know prevented planting for a couple of weeks," he said during the USSEC webinar, "but there's obviously something going on in our northern Great Plains where we are having wet spring conditions making it difficult to get the crop planted."
Some U.S. farmers may gamble on a late-planted crop, but those in the northern states will have limited options on account of the short growing season, he said.
Ruikka noted that the smaller than anticipated crop will also face growing demand this year. U.S. biofuels policy is driving a rapid expansion in soybean crush capacity in the Midwestern states, which has in turn contributed to rising demand for soybeans. However, Ruikka noted that while this may drive up prices for whole soybeans, it could make soybean meal more readily available — potentially bringing some relief to feed millers.
"The first thing that will happen is we're going to have enough meal come on fast enough that the price of U.S. meal will go down relative to what it has been, and that's also going to lower the price for distillers grains," Ruikka said. He estimated that markets for feed ingredients would remain in flux for the next six years or so as the new soybean crush capacity comes online, and should then reach a new equilibrium.